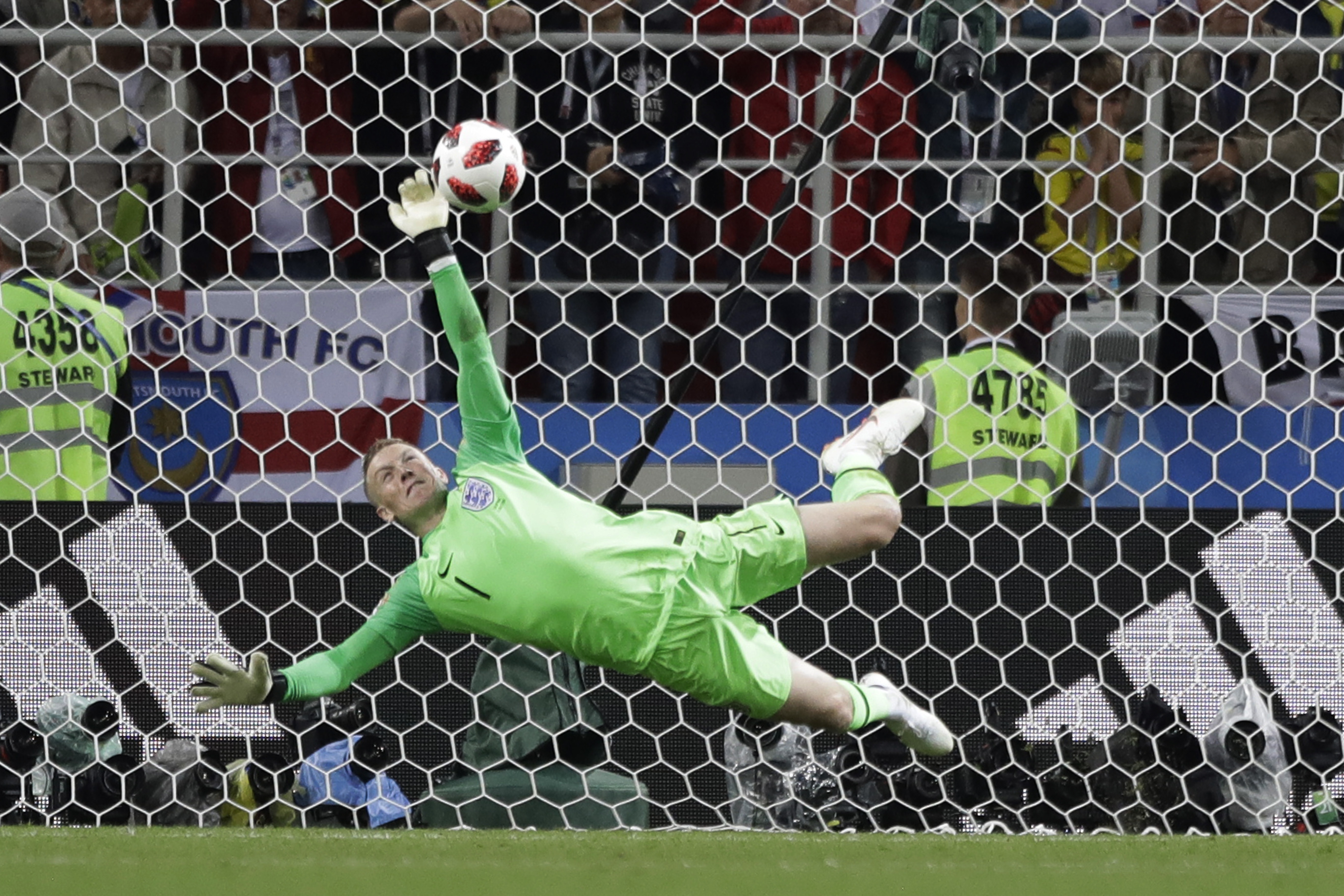 By JAMES ELLINGWORTH
AP Sports Writer

MOSCOW (AP) — The research paid off for Jordan Pickford. When Carlos Bacca stepped up to take Colombia's fifth and final penalty, Pickford knew he was likely to shoot to the left. The 24-year-old goalkeeper, in just his seventh England appearance, trusted his research and leaped. Research wasn't enough on its own — he also needed lightning reactions to shoot his left arm up to paw away Bacca's high shot.
The save gave England's Eric Dier a chance to win the shootout , and he converted. England moved on 4-3 on penalties after a 1-1 draw. "I did a whole bunch of research," Pickford said, his confidence sky-high. "(Radamel) Falcao is the only one who didn't go his way. I don't care if I'm not the biggest keeper in the world. I have the power and agility." Pickford was just two years old when England last won a penalty shootout, a few days older when the now-England coach Gareth Southgate missed the deciding penalty in a European Championship semifinal loss to Germany.
That defeat at home was treated almost as a national trauma, as was the penalty loss to Argentina two years later. Pickford only emerged as a leading Premier League keeper last year and made his debut for England in November. But he has rapidly become part of Gareth Southgate's new generation of English talent. At 6 foot 1 inch (1.85 meters), Pickford is small for a World Cup goalkeeper. "A top-class save. I'm surprised he could reach it, given his height," Southgate said of the save from Bacca's penalty.
"His athleticism around goal is excellent and again he executed the planning in the penalty shootout. We'd studied all their penalty takers. Great credit to a collective of staff and him for taking on that information and preparing in the right way. You don't always get what you deserve in life, but I think tonight we did." On an evening that ended with such frenetic energy, Pickford had little to do earlier. Colombia was on the defensive for most of the first half and lacked bite in attack. England took the lead on a Harry Kane penalty in the 57th and Colombia came charging back.
In stoppage time Mateus Uribe fired a stinging shot from long range and Pickford leaped to keep it out with one outstretched hand, sending it wide of the goal and cannoning into the advertising boards. Pickford could do nothing about the subsequent corner. Colombia defender Yerry Mina rose above Harry Maguire and headed the ball off the turf and in despite Kieran Trippier's headed clearance attempt. Extra time and penalties loomed, and fans felt the weight of those 22 years without a shootout win.
After the 90 minutes were up, "we just reset. And just go 'Bang, we're going again and however long it takes.' Like the gaffer said, 'If it takes extra time, if it takes penalties, we are going to win this game,'" Pickford said. "It's a bit of a lottery, but you can do your research."
It wasn't just England's miserable record which seemed to stack the odds against the team. Its penalty takers lacked experience of major tournaments — though none of the penalty takers had been involved in any of those shootout losses — and had to stare down a stand packed with raucous Colombian fans.
While Colombia's David Ospina stood taciturn, Pickford was a ball of energy. He jumped and jiggled on the line. Falcao sent Pickford diving headlong before placing the ball through the unguarded center. Juan Cuadrado put the ball high and left, far beyond Pickford's reach. Luis Muriel sent him diving the wrong way. With England 3-2 down and facing elimination, Pickford leaped to touch the crossbar as Mateus Uribe stepped up, and the Colombian blasted the ball into the bar. Trippier made it 3-3, and Pickford was up again to face Bacca.
After saving from the AC Milan forward, he squatted to the side of the penalty area, frog-like in his green uniform. Dier hit the winning penalty low and left for England and Pickford's teammates charged toward him to celebrate in a group hug. The joy of victory was built on self-belief, Pickford said. "Our mindset and mentality, we never stopped," he said. "We knew we had this game even if it went to penalties."