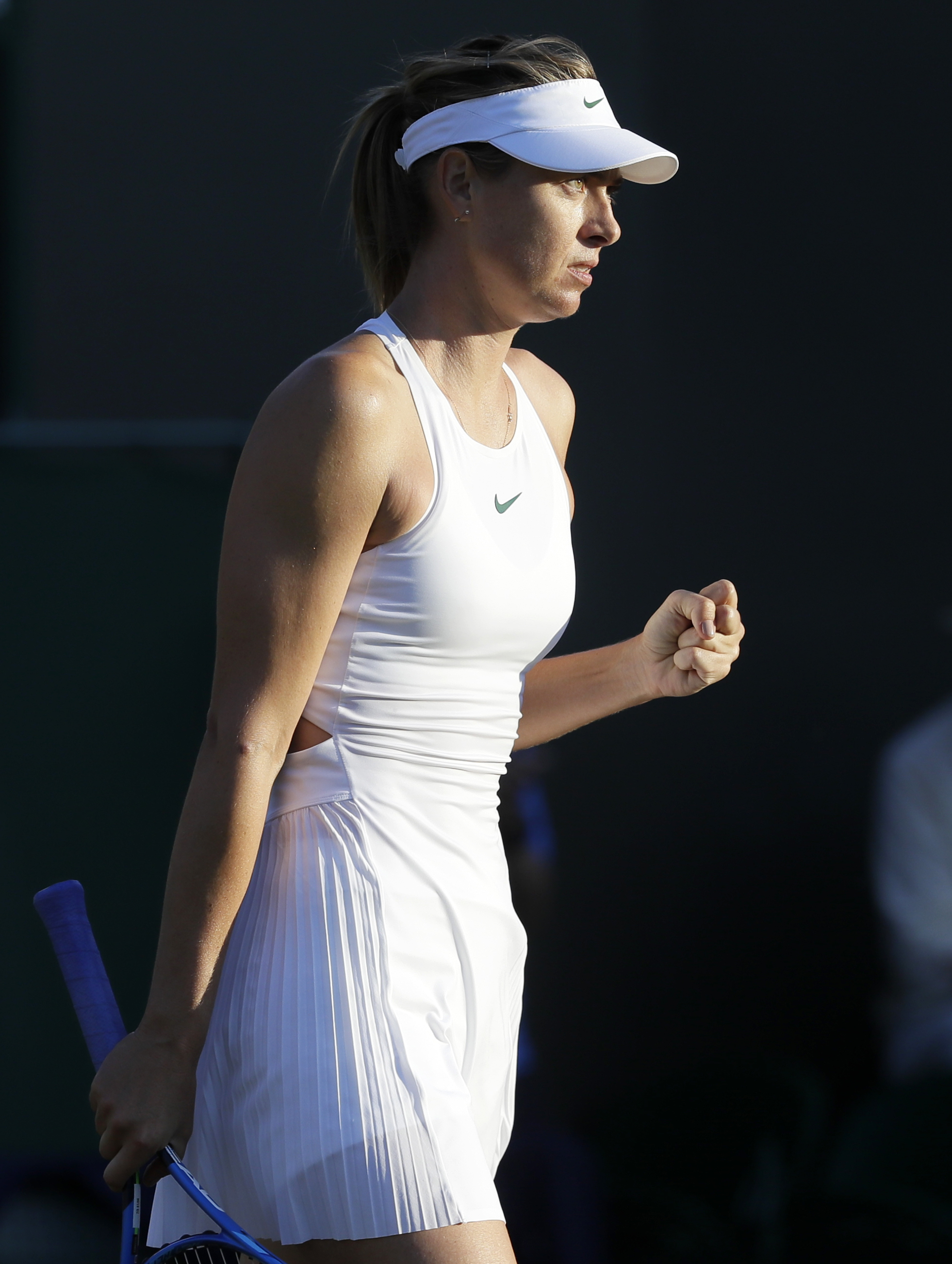 By HOWARD FENDRICH
AP Tennis Writer

LONDON (AP) — These are not the sorts of matches Maria Sharapova is supposed to lose, letting lead after lead slip away Tuesday against a qualifier ranked 132nd — and in the first round of Wimbledon, no less. Then again, at this edition of The Championships, as they prefer to call the event around here, the initial 48 hours have provided more surprising exits than anyone's accustomed to: A total of seven top-10 men's and women's seeds departed in the opening round, more than in any previous year in the professional era's half-century.
That includes two-time champion Petra Kvitova, who was sent home by Aliaksandra Sasnovich of Belarus 6-4, 4-6, 6-0 a few hours before 2004 titlist Sharapova folded against Vitalia Diatchenko in a 6-7 (3), 7-6 (3), 6-4 loss she seemingly controlled time and again before dropping the last three games. "Sometimes," Sharapova said, "you put yourself in a better, or winning, position, and you don't finish." A 15-month doping ban kept her out of the grass-court Grand Slam tournament in 2016, and an injury sidelined her a year ago. It looked as if it would be a pleasant, straightforward return when she went ahead by a set and a break at 5-2.
Sharapova then served for the match at 5-3, but faltered. After being pushed to a third set, Sharapova went up a break at 2-1. That edge disappeared right away. She went up another break at 4-3. That advantage, too, was given right back. Sharapova's collapse eventually ended, perhaps fittingly, with her 11th double-fault. How unlikely was this result? Since losing the first two Grand Slam matches of her career as a teenager, Sharapova was 49-1 in openers at majors, 13-0 at Wimbledon. She's a former No. 1, now seeded 24th, who owns five Grand Slam titles.
And Diatchenko? Repeatedly sidetracked by injuries of one sort or another — "I think I will write a book after I finish playing," Diatchenko joked about her health history, even on a day she was visited by a trainer for groin and lower back issues — the 27-year-old Russian came in 0-2 at Wimbledon and 8-25 overall in main-draw matches at all tour-level events. "Everybody," Diatchenko said afterward, "expects me to lose the match." But she didn't, in part because Sharapova failed to win it. That continued the kind of topsy-turvy tournament it's been so far, of a piece with the sunnier-than-normal weather.
The temperature has been in the low 80s (high 20s Celsius), there's been nary a cloud, and some players have noticed the grass offering more unpredictable bounces. There are other theories for what's been causing these unprecedented results. On Tuesday, No. 8 Kvitova and No. 6 Caroline Garcia lost, a day after No. 4 Sloane Stephens, the reigning U.S. Open champion, and No. 5 Elina Svitolina did. Also Tuesday, No. 7 Dominic Thiem, the French Open runner-up last month, quit because of a bad back while down two sets and a break, and No. 10 David Goffin was beaten, a day after No. 6 Grigor Dimitrov lost.
"I really believe it: Here on grass, you don't know what to expect," said No. 1 Simona Halep, who joined fellow French Open champion Rafael Nadal and Novak Djokovic as a straight-set winner on Day 2. "Some players can play (their) best tennis. The top players can play a little bit less. You never know. … Every match can go either way." Kvitova spoke about being beset by nerves and the idea that the pressure to live up to expectations at a Grand Slam tournament can be most burdensome early in a tournament. "I don't think it's just me," she said. "I think it's all of the seeded players."
She was able to smile and laugh through her news conference, though, saying that she feels as if her return from a knife attack at her home in the Czech Republic in December 2016 constitutes her "biggest" win. Sharapova, meanwhile, said that the quick switch from clay to grass can make things tough on some players. She's found that transition more difficult as she's gotten older. Maybe that's true. Still, it was shocking to see someone considered so gritty, so successful at figuring out how to win, struggle when so close to victory. Especially against such an inexperienced opponent.
Did she get struck by a case of the jitters? "That's part of the game, is to feel moments of tension, to feel there's something on the line. That's just human. No matter how many times you've done it, no matter what court you're playing on — Centre Court, back court — just the moment, the crowd — Wimbledon, another tournament — you always want to do your best," Sharapova said. "Of course you feel it. But I love that feeling. That's one of the reasons I play. I definitely, maybe, wasn't smart enough, didn't play the right way in the crucial moments."