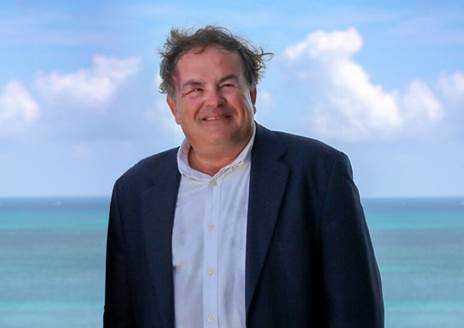 We interviewed Pering's Vice President for International Operation Alberto Perret Gentil from his apartment at Blue Residences.
The Perret Group has been in real estate development in Aruba for quite some time now. How do you see the real estate market in Aruba moving forward?
Pering is a 70 year old company founded by our father and a close friend back in 1950 and this is our 20th year anniversary in Aruba. We feel nowadays like Arubans and are very thankful to Aruba and its people for welcoming us when we had to move part of our business from our native Venezuela. Irwin my brother has been at the helm of the company for some 35 years and I have been responsible for the Aruba operation since I moved here with my family 14 years ago.
Going back to your question. Aruba is a two tier market; the tourist market and the local market.
The tourist real estate market is booming because many people from the USA and Canada learned how to work from afar; from their dream destination via Zoom or Microsoft Teams. It has been the best year of our history sales wise. We expect prices on this segment to go up given the high demand and also the increase in construction prices of 15%-20% worldwide. Prices in the US already increased and Aruba's are still lagging. We are seeing also a new trend of people looking for villas and larger formats like 3BRs, 4BRs and Penthouses with one of the rooms turned into a home office now that they want to spend more time "workationing" from here.
Regarding the Aruban local market we expect more supply coming as some people unfortunately won't be able to pay their mortgaged loans given the economic hardships of the last year not allowing allow prices to increase.
But there is a moratorium by the Government on condominium developments.
Since December 2018. I personally think is not warranted. I have heard there are 1000 condos on the pipeline since we got here in 2001, but the reality is different. Look around how many have been built since or how many are currently under construction, 70?, 100 tops?. If you compare the number of vacation condominiums of for example Miami, Puerto Rico or Turks & Caycos vis a vis hotel/timeshare rooms Aruba has proportionately way less. And condominiums are great for the economy; its GDP, in general targeting high income individuals that spend on the island, pay its taxes in addition to the 6% transfer tax on purchase price they must paid to the Government and with very little if any pressure on more immigration.
Why did you choose to live in Blue If you are also the developer of Oceania, Azure and Harbour House.
Each project has its own magic; Oceania has Eagle Beach, one of the very best in the world, Harbour House amazing city and ocean views and the downtown living experience and in Azure I like the lobby/restaurant and pool areas.
Don't tell anyone but Blue is my favorite!!. I like the expansive landscaped areas and the views toward Eagle Beach from my terrace. It has a more tranquil, private and a more easygoing ambiance. We just installed a new whirlpool, will soon commence works on the Prikichi Lounge at the lobby area and hopefully will finally get the permit for the beach bar across the street by the name of "Laama", an exclusive beach gathering space with tapas and drinks by Chef Urvin Croes from the Dejavu Group .
Also worth mentioning Infini, competing for the best restaurant in Aruba with Lima Bistro, soon to open at Harbour House. A new spa operator, state of the art fitness center, tennis and beach tennis facilities among others.
But lately we see many penthouses for sale?
That is correct and a great opportunity by the way. Our original owners were mostly wealthy Venezuelans. Many recently moved their permanent residence to Europe and the US and cannot enjoy their "weekend getaway". And currently Venezuelans have restrictions to enter Aruba and thus rather sell. I bought my PH in a resale recently.
Large format units are selling like hotcakes in Aruba, people that decided to work from their dream destination and with the best internet in the Caribbean. Workation is here to stay. I personally love the interior design of Blue Residences 3BRs or 5 BRs penthouses, its big balconies overlooking the ocean where we gather with friends and family almost weekly for BBQ or paella, its vaulted ceilings and double the ocean views as is it has two levels.
What keeps you busy these days?
Working on a new development opportunity we hope to announce shortly and staying busy with opening HarbourWalk, the ocean front retail area on Harbour House as well as re launching the " Pa Amor di Nos Aruba" PANA Foundation, our social responsibility arm. Should find more time to spend with wife and kids though.
Any final tip for a person looking to buy a second home in Aruba?
Stay close to the ocean!!