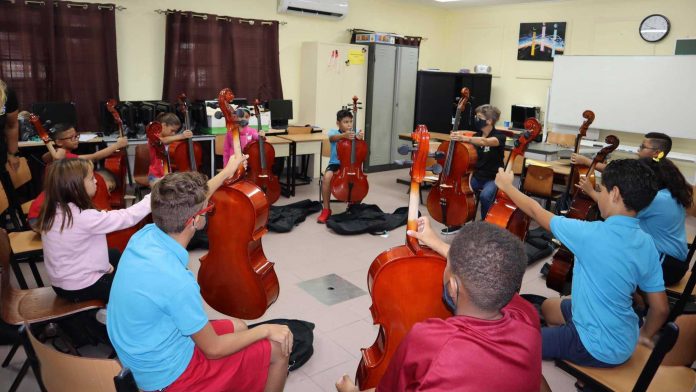 Originally, music plays a very important role in the culture of Aruba. In schools, however, creative subjects such as art and music have come last and more importance is now attached to language and math lessons. The initiative that Leerorkest Nederland, learning orchestra, took a few years ago, and has now also brought to the Caribbean islands, aims to change this. We are convinced that creative subjects such as making music together are just as important as learning to count, write and read. Due to their home situation, many children often do not have the opportunity to take music lessons and / or learn to play an instrument. The Stichting Leerorkest Aruba would very much like to change this and together with the Leerorkest Nederland has made a start on Aruba.
A musical and social project
Leerorkest Aruba aims to give all children in Aruba the opportunity to learn to play a musical instrument, during and after school. It has now been scientifically proven that making music together is not only fun, but also very good for the total development of children. In this way they learn to work together, to build more self-confidence, but in addition, their creativity is stimulated, their brain learns to make other connections and they learn to listen to each other in a positive way, to take each other into account and to help each other.
'Music education has been shown to have a positive influence on IQ, learning performance, word analysis and phonological skills. There is also preliminary evidence that music education can facilitate the learning of foreign languages.'
Quote from the chapter 'The value of arts education. Allegations and Evidences' (Ellen Winner, Stéphan Vincent-Lancrin).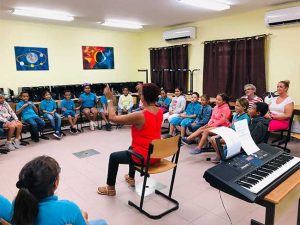 Accessible structure
By introducing a Learning Orchestra in the schools, we can set up an accessible structure within the schools so that all children have a chance to discover and develop their musical talents. The advantage is that the lessons will initially take place during school time.
Children receive weekly lessons from a passionate music teacher. A start is made with General Musical Education Lessons and this is gradually extended to the method of the Learning Orchestra: playing together on instruments in a real orchestra!
Children learn in a playful and fast way to learn to play the violin, cello, trumpet, trombone, flute or clarinet and then play together in a class orchestra!
The organization of the Leerorkest in Aruba is in the hands of the local organization Stichting Leerorkest Aruba (foundation: October 2019).
Music for ALL Children
Aruba has three major school boards, namely DPS (Public Schools Service), SKOA (Foundation for Catholic Education Aruba) and SPCOA (Foundation for Protestant Christian Education Aruba).
In total there are about 41 regular primary schools in Aruba. Stichting Leerorkest Aruba hopes to one day be able to introduce the Leerorkest to all primary schools.
Leerorkest Aruba started a pilot on September 23, 2019 at four primary schools (three from SKOA and 1 from DPS). The instrument lessons are also given at two schools.
The headmasters and teachers are very enthusiastic that music lessons are finally coming back to school in the form of a Learning Orchestra!
Leerorkest Aruba has chosen to start in the 2nd class with a preparatory series of general musical education, and to start in the 3rd class with the lessons on the instruments. We believe that children who have a good basic musical education learn to play the instruments faster.
Due to the challenges of the Corona virus, it has been decided to start in the 2020-2021 school year with online lessons in general musical education. If the schools are (temporarily) closed, these lessons can in any case be continued within the home school.
Nora Eleonora, director of DPS, wholeheartedly endorses the goals of the Learning Orchestra. She is very happy with the start of the pilot project at one of their schools and hopes that the project will spread to other schools within the DPS board. About 25% of the primary schools on the island come under the DPS board.
Recently, a very positive consultation took place between Anuesca Baily of SKOA and Leerorkest Aruba, in which SKOA has indicated that they would like to start with the general musical education programme presented by the Leerorkest at all their schools (with about 7,000 children in total!). Finally the goal of the Leerorkest is getting closer: to offer music for ALL children.