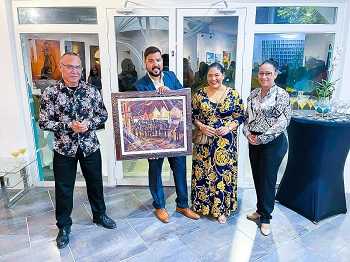 The Minister of Culture, Mrs. Xiomara Maduro attended the official opening of the unique ArtisA Gallery, located in the center of San Nicolas.
The objective of ArtisA is to create local and international projects for the public.
So far, the Aruba Art Fair, where local and international artists have the freedom to create wall art, particularly in the main street of San Nicolas, is the most popular. In addition to this project, ArtisA will be focussing on different events, projects, tours, and the gallery itself, which is a dream coming true for its creator Tito Bolivar.
During the evening, the guests enjoyed the creations of local talent Elvis Tromp, to which the opening evening was dedicated. 'Discover the World of Elvis Tromp through a Culinary & Art Experience' was the theme for the official opening. Tito hopes that the culinary and art experience concept attracts guests. Not only to experience art at the ArtisA Gallery but also to experience the artist's favorite dishes prepared by Chef Makaveli. For the opening evening, Chef Makaveli prepared a 5-course dinner that transmitted the culinary taste of Artist Elvis Tromp, and the guests certainly enjoyed this experience.