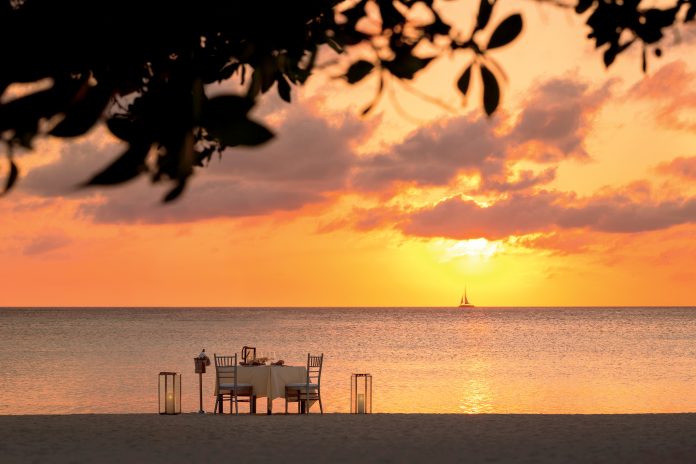 Your significant other is everything to you and this special day in the year you want her or him to feel how much they mean to you. The Ritz-Carlton, Aruba knows how to create unique and memorable experiences. With their exclusive and romantic set-ups for Valentine's Day you can be assured to make it a one-lifetime experience. Because (s)he is worth it!
The engagement.
The Divi Sushi Bar & Lounge is already a lovable setting with a view to celebrate. Imagine the sun set on this beautiful terrace with superb service and delectable dining while you are facing the white-sanded beach and you are seated in the sophisticated surroundings of The Ritz-Carlton, Aruba. Show her or him that only the best is good enough!
The proposal.
An assorted sushi platter, a bottle of Moet & Chandon, two cocktails from the menu and two cocktails to share is what is proposed to you within the Sunset Dinner for Two. Would you rather be right on the beach in a Private Cabana? Consider it a dream they'll make come true with the Starlight Valentine proposal. You are enchanted with a welcome drink and delicious four-course dinner. You only need to say YES!
The celebration.
Celebrate your love in a memorable and exquisite way at The Ritz-Carlton, Aruba. Make this a memory to last.
"Love is our true destiny. We do not find the meaning of life by ourselves alone – we find it with another." ~ Thomas Merton
Limited seating available, please call 527 2222 or contact the concierge at The Ritz-Carlton, Aruba to make your reservation.