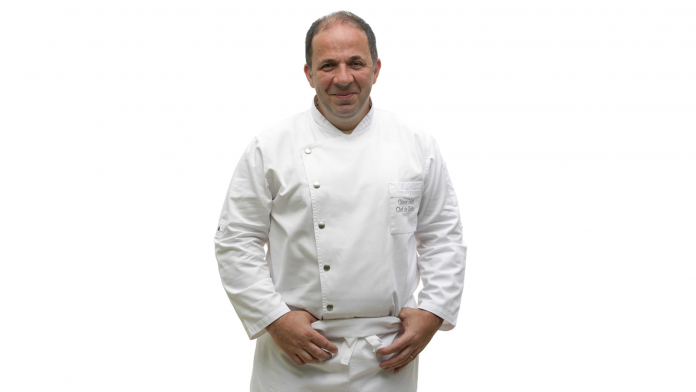 The Hilton Aruba Caribbean Resort & Casino recently announced that international chef Olivier Falchi will be overseeing all culinary operations for the resort as Executive Chef.
The French-born chef brings with him to Aruba a wealth of experience in top-notch restaurants and hotels around the globe. Throughout his career, Falchi had the opportunity to work in a variety of culinary settings, and appreciating local and cultural influences on cuisine.
At the heart of his craft is a strong native culinary tradition from the south of France, the city of Auch where he was born, close to the Spanish border. He fondly recalls an elaborate meal served at home, every night of the week, for family members and friends to congregate and connect, with a special more elaborate edition on Sunday.
As an aspiring young chef making a name for himself in culinary circles Falchi had the pleasure to work at hotels and restaurants including top-rated Relais Et Chateaux establishments, in Switzerland, France, French Polynesia and Argentina.
Combining his classic French training with the Argentinean art of using open fire in the kitchen, Falchi found his culinary niche, enjoying awards and recognitions as Chef of the Year, repeatedly, while landing Best Hotel Restaurant for his workplaces, Hotel Sofitel Arroyo in Buenos Aires, Argentina and Hotel Sofitel, Arc de Triomphe, Paris, France.
Invited as Celebrity Chef, he cooked his way in festivals around the world including Peru, the Dominican Republic, Brazil, Mexico, Spain, Canada, and Colombia.
As the pandemic hit, the chef transitioned smoothly from high-volume catering, events, and specialty restaurants to take out and delivery, developing a great following of foodies, cooped up at homed between four walls, waiting for restrictions to be lifted. He also regularly aired Master Classes on the internet, streamed in different countries under his own brand name: La Cuisine d'Olivier.
"I worked harder than I ever worked during the pandemic," he shares with a great sense of accomplishment, "food is a great way of taking care of humanity in times of crisis. You feed people, and you make them happy," he adds.
The news of Falchi's versatility and excellent culinary pedigree reached Aruba, as Vasco Baselli, the General Manager of the Hilton Aruba Caribbean Resort & Casino was ready to recruit outstanding new talent, in the wake of former Executive Chef, Matt Boland's retirement.
He was impressed with the credential and with the rare combination of old school and new school knowledge Falchi brings to the development of restaurant menu concepts, catering for large and small events and special innovative celebrations.
"My previous island experience, Falchi banters was in the National Service to my country, France, in Guadalupe, where I learned to savor and prepare Creole food. It will, no doubt, come in handy in Aruba," he concludes.
Chef Falchi is Member of the Culinary Academy of France, Member of Les Toques Blanches Internationales, and Member of Lucullus, French Chefs of Argentina, he is author of a hard cover book La Cuisine d'Olivier, as well as a global food ambassador as Catering and Consulting Chef under his own brand name: La Cuisine d Olivier.