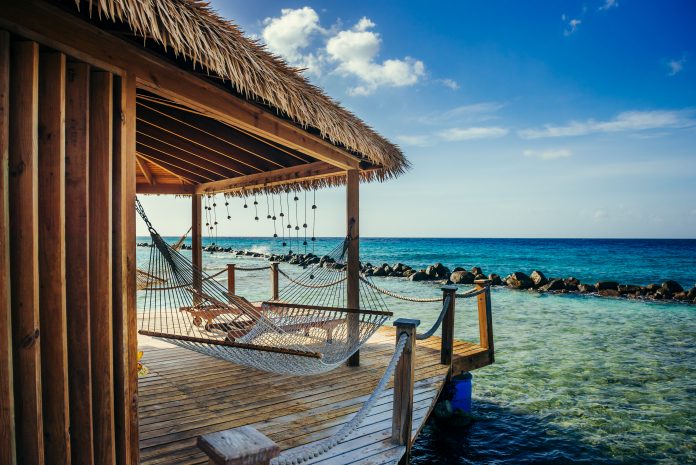 Take a deep breath, feel calm and let go. It sounds tempting and moreover it is so needed, but how and where and when? You will know the instant you undergo the Okeanos experience. This spa at the Renaissance Resort & Casino is a guide to escaping the daily buzz in your mind and body. The spotlight goes on for your body, hair, nails and face because at Okeanos Spa they do it all!
Let us start by explaining why this is a stand-out spa. It is all about having choices. Everyone is different and therefore taste is a personal thing. Okeanos Spa gives you the option between indulging in their indoor spa with a wide variation of treatments and a view to kill at the marine's bay from the relax lounge or …. Hold your breath: take a boat shuttle to Renaissance Island, a 40-acre private tropical retreat with white sand beaches and crystal clear waters where the Spa Cove opens its massage heaven to you.
Zugheila Lindeborg, Local Marketing Manager: "We are located at the first floor of the Renaissance Resort & Casino and offer indoor and outdoor treatments. The outdoor treatments take place at the Renaissance's private island. Both spas are accessible for resort guests and non-resort guests. Both spas are adults only." She explains that body massages are offered at both locations while the indoor spa also has manicure, pedicure, facials and body wraps for men and women on the menu. "We do couples treatments, bachelorettes parties and groups. The spas are open Monday to Sunday from 8am to 8 pm."
O my Okeanos.
A warm welcoming face, a soft, thick bath robe and a relax lounge with a view to die for at the marine's bay. Your wellness journey starts here. While sipping the fruit infused water your mind calms as you see the fishing boats sailing the ocean in Oranjestad's harbour. Four organic massage oils are waiting for you to select one that fits your current state or desired state of mind and body. The therapists take you to the treatment room where you install yourself. The face cushion here makes a huge difference: never had it as soft as this one making your neck and face relax for real. The massage is topped off with a foot scrub, which is great.
Juliette Bartijn, Spa Manager: "We have six treatment rooms, a couple room, two facial rooms, two individual massage rooms and we have a wet room where we do the wraps." Unique about us is the private island location, the trained therapists which are all licensed and some even have a physiotherapy certificate and of course the wide variety of treatments we do here." Okeanos Spa has Pregnant Specials, Mothers & Daughters treatments, Bridals arrangements and they also have a loyalty card granting you an incentive when full. "Surprise your loved one with a special Valentine Deal we have on now, check it out on our Facebook!" You see, at Okeanos you can get relaxed and pimped from head to toe!
Renaissancearubaspa.com
Facebook/OkeanosSpa