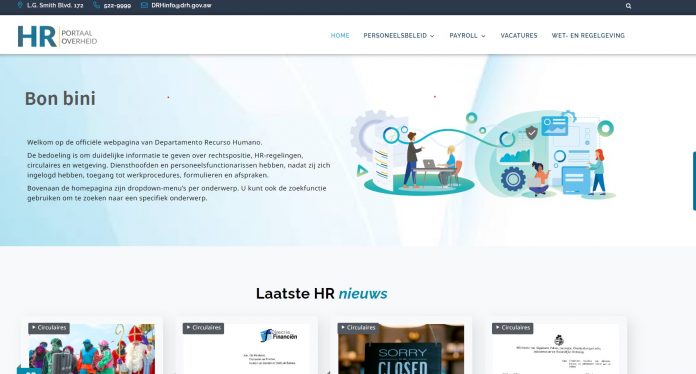 Departamento Recurso Humano (DRH) officially launched the "HR Portal" website on December 14, 2022.
The HR Portal is a website with information about Land Aruba's human resources policy. Employees of Land Aruba can easily find information there about their legal status and the rules that govern it.
On the website the employees of Land Aruba will find:
Information on country regulations and applicable rules on personnel policy;
explanation of processes;
documents and forms required for submitting a request
Answers to frequently asked questions regarding their legal status.
Topics such as performance management, pay and compensation, AZV-plus and vacancies are available on the website. The website will be continuously updated and developed so that it is a valuable source of information for government departments, public employees and the general public.
One can access the website via computer, tablet or phone (smartphone) The visiting address of the website is: https://hrportaal.drh.gov.aw.
To keep government personnel informed at all times, a quarterly HR newsletter is produced. Government employees can register for this through the website. The HR newsletter contains the new circulars, legislation and latest developments in the HR field.
The DRH invites all government departments, government employees and stakeholders to visit this website.