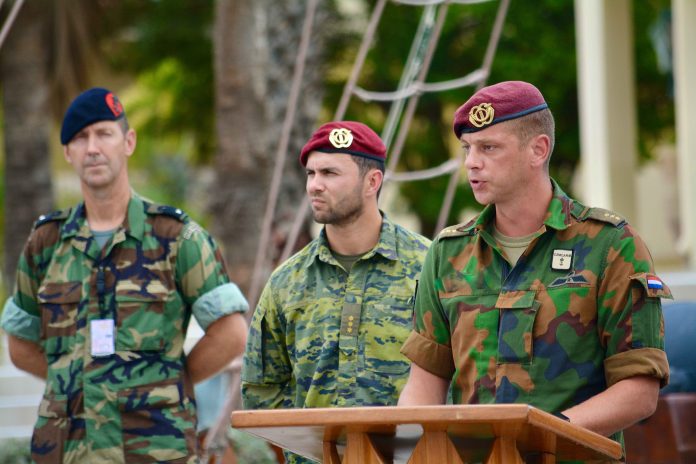 In a short military ceremony, Compagnie in the West handed over rotation 34 its tasks to rotation 35. The Compagnie in the West (hereinafter CidW) is a permanent unit of the Royal Netherlands Army in the Caribbean. The new commander Captain Stefan relieved his predecessor Captain Maarten by means of the traditional paddle transfer. Rotation 35 will also remain in the Caribbean for four months.
The previous rotation was much visible in Curaçao during her assignment in recent months. This was mainly due to the many military assistance that the CidW carried out in the field of (maritime) border surveillance, in which it worked closely with the Caribbean Coast Guard and the Curaçao militia. Support was also provided during the search for a missing man. Due to the COVID-19 situation, rotation 34 did not train on Aruba, but on Bonaire. Supporting civil authorities is one of the main tasks of Defense in the Caribbean.
CidW 35 comes from 11 Infantry Battalion Air Assault Garderegiment Grenadiers and Jagers, a unit of 11 Airmobile Brigade. This company, the Bravo Company, is also called the "Bull Company". This Bull company is no stranger to the region, it had previously had duties as a CLAS company in the Caribbean. Both units come from Schaarsbergen and know each other from the barracks there. The bull stands for courage, maneuverability and punch.
This class of CidW resides on Curaçao in a new type of (interim) uniform of Defense, the so-called "multicam jungle".