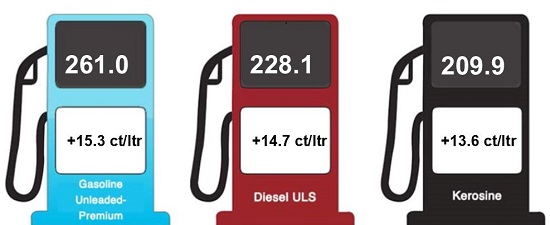 As of yesterday, the 9th of March, the price for petroleum products in Aruba changed. The Minister of Economic Affairs, Communications and Sustainable Development announced that the prices for petroleum products were adjusted, and would come into effect starting March 9th of 2022.
The price for gasoline unleaded-premium will see an increase of 15,3 cents, making the total price 261,0 cents per litre. Gasoil LS will see an increase of 14,7 cents which will bring the total price to 228 cents per litre and Kerosene will see an increase of 13,6 cents which brings the price to 209,9 cents per litre.
Turnover tax (BBO), Health tax (BAZV) and BAVP are included in the prices.