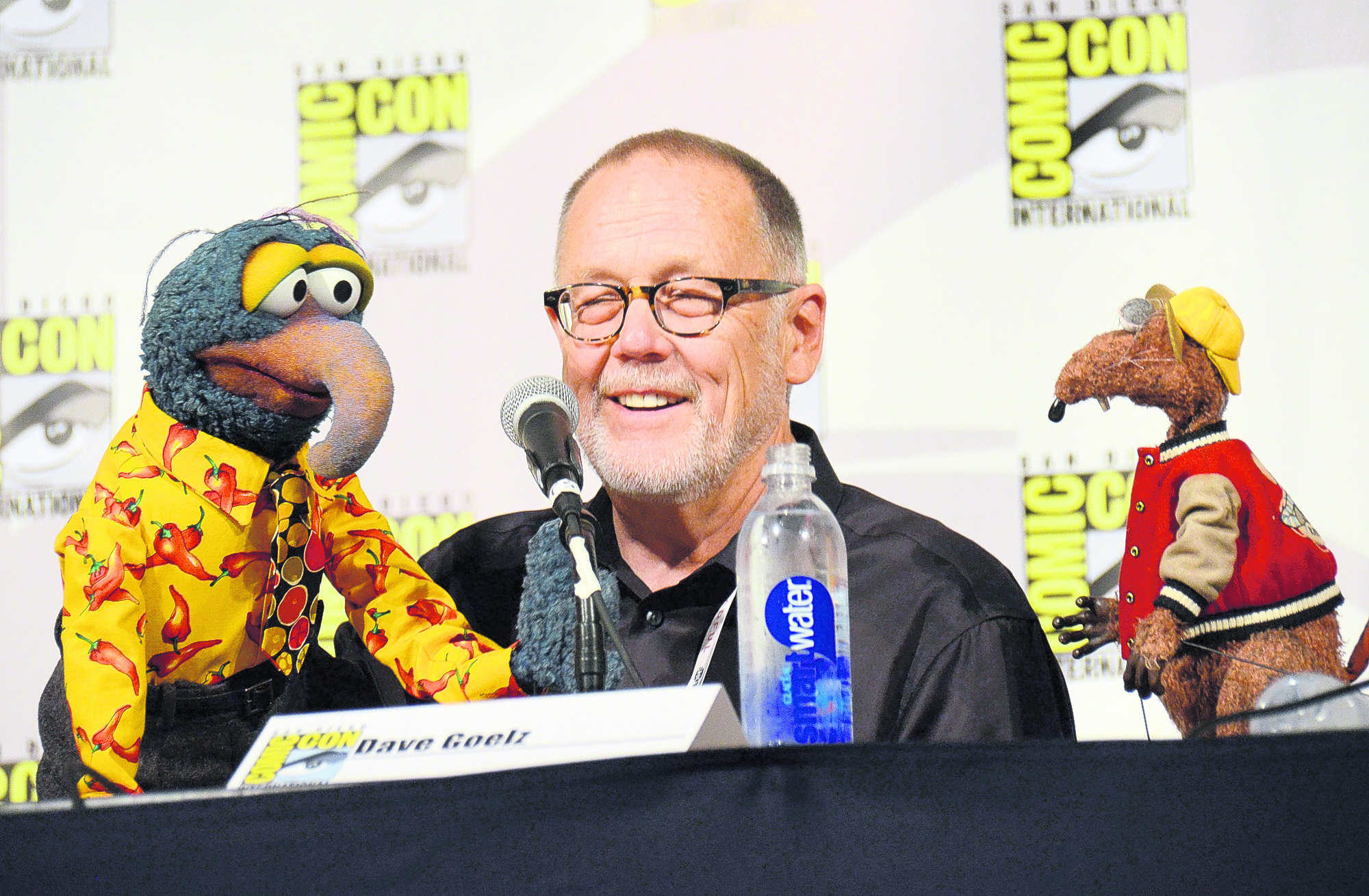 By SANDY COHEN
AP Entertainment Writer
LOS ANGELES (AP) — Only Miss Piggy's creator knows the depths of her tragic origin story. Frank Oz, who gave life to the character in the early 1970s, says Piggy left her hometown farm for life in the big city after her dad died in a tractor accident and she had a falling out with her mother. Piggy went to charm school once she got to the Big Apple, Oz says, "but she had to pay for it, so she did some things she wasn't proud of." (A bacon commercial, he adds.)
Gonzo's daring nature was born out of puppeteer Dave Goelz's personal insecurities, and
actor/puppeteer Jerry Nelson drew on Eeyore's depressive demeanor to create Snuffleupagus' signature phrase — "Oh, dear" — on "Sesame Street." It takes more than a wacky voice to bring a Muppet to life. Every character has a detailed backstory dreamed up by the puppeteer behind it — or rather, beneath it. The artists who created some of the
Muppets' most beloved characters — Cookie Monster, Grover, Count von Count, Bunson Honeydew, Animal, Prairie Dawn and Pepe the King Prawn — shed light on their creative processes and their characters' secret backstories in a new documentary, "Muppet Guys Talking ," available online Friday.
"This is a great opportunity to show people who the people were underneath," says Oz, who directed the film. "Besides the idea of showing the world the culture in which we lived and worked because of (Muppets creator) Jim (Henson)." Featuring original Muppet performers Oz, Goelz and Nelson, along with Fran Brill and Bill Barretta, the 65-minute documentary is a love letter to Henson and the creative community he developed. The five artists discuss their memories, moments of inspiration and the challenges of working with puppets.
For example, during the opening of 1979's "The Muppet Movie," in which Kermit sits on a log in the middle of a lake, strumming a banjo, the six-foot-tall Henson was crunched into a steel canister underwater. His arm was overhead, controlling Kermit, and a microphone ran into the submerged container to capture Henson's voice. "He would do anything," Goelz says. "I think we all learned commitment from that."
Henson also welcomed ideas from everyone, from the puppeteers to the prop builders and electricians. "His appreciation of people was beyond my range," says Goelz, who counts Gonzo, Bunson Honeydew and Boober Fraggle among his creations. Outrageousness was always welcomed, Oz says, and kindness was king. "All the sweetness came from Jim," Oz says. The film includes archival footage of the late Muppet originator, along with clips of late writers and puppeteers, including Richard Hunt, who played Scooter and Janice on "The Muppet Show" and Don Music on "Sesame Street."
"Muppet Guys Talking" is dedicated to Nelson, who died shortly after filming his appearance in the documentary. He and the other puppeteers said the greatest misconception about their work is that they're only responsible for the Muppets' voices. "The voices are just five percent," Oz says. That's why character backstories are so important. Because performers would often improvise during the creative process, knowing Miss Piggy's or Gonzo's motivations would help inform their reactions in any given scene.
It was improv that led Gonzo to have a thing for chickens, Goelz says in the film.
The physical work involved with making Muppets come to life is also highly specialized. Not only do the puppeteers need to translate their performances into puppets high above their heads, they need to do so with awareness of their fellow performers and of the camera positions capturing the action. Brill's height presented a challenge when she first joined the Muppet cast: She's nearly a foot shorter than Oz and the other artists.
Set workers created a pair of super-tall platform boots so Brill's arm, and the puppet on top of it, would match the guys'. The film includes an illustration of her makeshift platforms.
Considering the impact and popularity of the Muppets at their height in the early 1980s, it's surprising there aren't more documentaries about the making of the phenomenon. Brill said that in the Muppets' early days, Henson discouraged puppeteers from posing for photos with
their characters to help suspend disbelief for young audiences. Oz still won't pose with any of his puppet personae, nor does he perform their voices.
He didn't even want to make "Muppet Guys Talking," but his wife, Victoria Labalme, insisted on it. "She saw the way we worked, the culture that Jim created, and she had never seen that kind of work," Oz recalls. "She said, 'People should be aware that people can work like this — without backstabbing, without politics, but just working for the quality of the product.'
"She badgered me for about a year and I finally said OK." Oz, too, distanced himself from his Muppet work when he transitioned to directing in 1982. He said he planned to give himself 10 years to learn the craft, but Henson expedited that when he tapped Oz to co- direct "The Dark Crystal."
Oz's other directing credits include "Little Shop of Horrors," "Dirty Rotten Scoundrels," "What About Bob?" and "Bowfinger." "Eventually people saw me as a director, and then I could really appreciate the Muppets part of me," he says. "That I was safe enough that I wasn't labeled as one thing." Now Oz says he misses puppeteering. Apart from reprising his appearance as Yoda in "Star Wars: The Last Jedi," he hasn't performed with a puppet for more than a decade.
"No one asks me anymore," he says. Besides, he adds, there was something truly special about Henson's Muppet environment, where the characters and the people creating them were all equally close. "These characters are believable because our relationship down below is believable and real," Oz says. "The actual humor and the heart, it doesn't come from the puppets. It comes from the people underneathwho've been working with each other for so many years."q