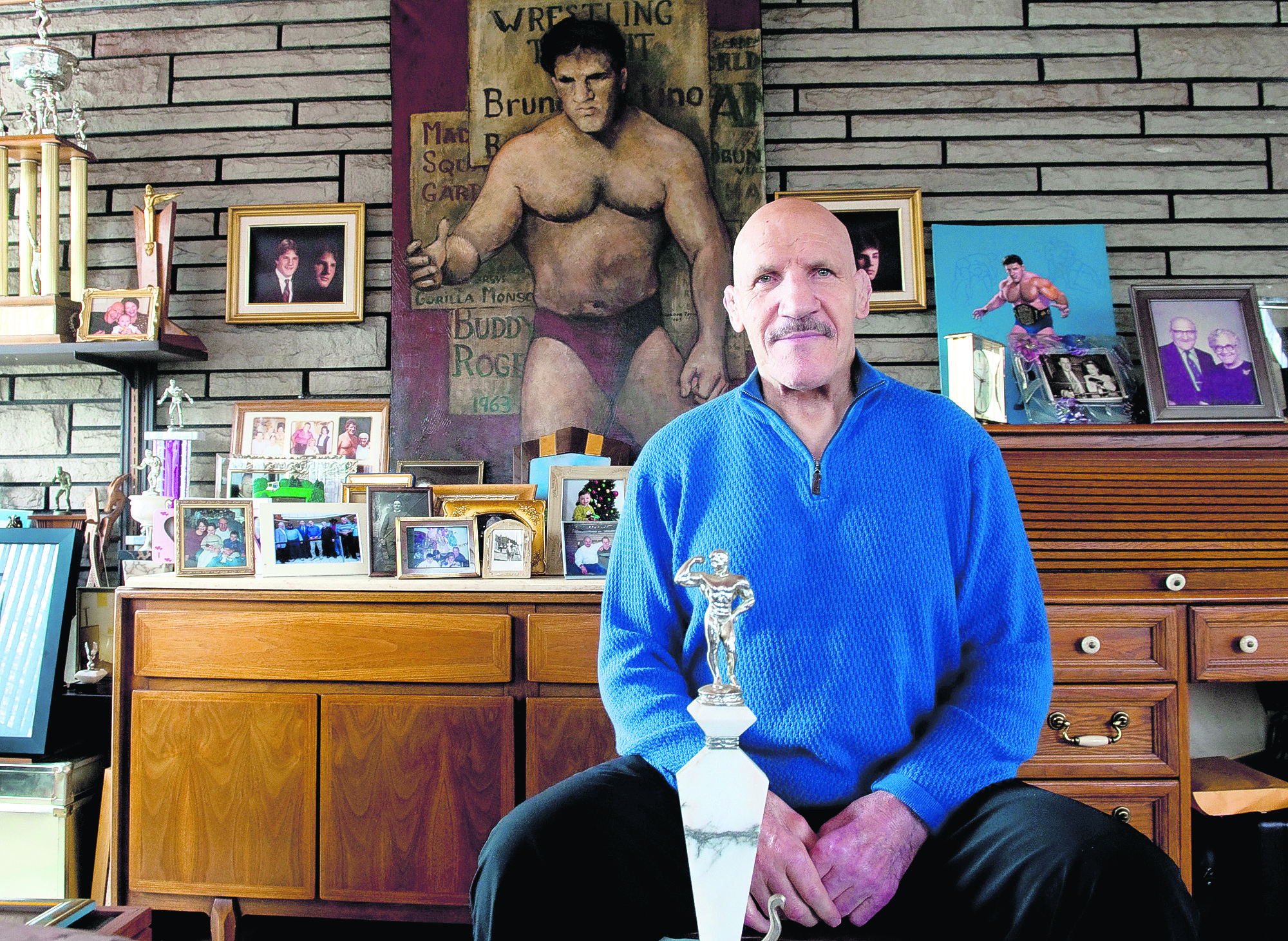 By DAN GELSTON
AP Sports Writer
He was professional wrestling's ultimate good guy. The son of Italian immigrants, Bruno Sammartino fled the Nazis as a child and built a career beating a string of bad guys that thrilled fans and made him reign as the conscientious champ for more than a decade. Before the flash of The Hulkster, the electricity of The Rock and the foul-mouth of Stone Cold, all Sammartino required to become wrestling's biggest box office draw was a pair of tights, boots and an honest promo that made fans believe in the most illegitimate of sports.
Sammartino, professional wrestling's "Living Legend" and one of its longest-reigning champions, has died. He was 82. "One of the finest men I knew, in life and in business," WWE chairman Vince McMahon said. "Bruno Sammartino proved that hard work can overcome even the most difficult of circumstances. He will be missed." Family friend and former wrestling announcer Christopher Cruise said Sammartino died Wednesday morning and had been hospitalized for two months. Sammartino's name on the marquee about guaranteed a squared circle sellout in the 1960s and 1970s and he held the World Wide Wrestling Federation championship for more than 11 years (4,040 days) over two title runs.
Sammartino's Italian heritage, brute strength and good-guy charisma helped make him an instant star in the northeast. He had rivalries with Killer Kowalski, Gorilla Monsoon and George "The Animal" Steele during his title runs and later wrestled famous grudge matches at Shea Stadium against Pedro Morales, Stan Hansen and Larry Zbyszko. "Bruno came along in the '60s and he reflected what was going on in terms of the American Dream story," Zbyszko told The Associated Press. "Poor, starving immigrant kid who escaped Nazis. His mother was shot over the mountains and he came to this country starving and achieved the American Dream. He became the beloved heavyweight champion of the world. People saw that, they felt that. He was a real guy. Everybody believed in him."
He was born in Italy and was a child when his family immigrated to Pittsburgh, where he became a champion power lifter and workout fanatic before learning the ropes of pro wrestling. Sammartino defeated Buddy Rogers in just 48 seconds to become the second-ever WWE champion in front of nearly 20,000 fans on May 17, 1963, at the old Madison Square Garden. He held the title until 1971 and his second reign began in 1973 with a win over Stan Stasiak. That one lasted until he was pinned by "Superstar" Billy Graham in 1977. Zbyszko, a WWE Hall of Famer, was billed as Sammartino's protege until he turned on him during a famous televised match. Zbyszko got a quick lesson on how much fans loved their Legend when he bloodied Sammartino with a series of chair shots to the head.
"I was getting my car smashed, I had to hide in trunks," Zbyszko said. "I was going down the highway in a new Cadillac with the windows smashed, the mirrors hanging, the lights are out. It was a different time, a different day. My god, the riots." They became engaged in a bitter feud that was capped by a steel cage match at Shea in 1980. Sammartino escaped the cage a winner. "People hated me for 20 years after that match," Zbyszko said. "Everything I learned was from Bruno. He was my mentor." Sammartino and Hulk Hogan — the biggest long-term money-making draws in WWE history — tagged together in the "Legend's" final match.
He was in his son David's corner for a bout at the first WrestleMania in 1985 and competed in a battle royal won by Andre the Giant at the second WrestleMania in 1986. Sammartino became a broadcaster on WWE's weekend morning shows before his frustration over the company's direction into campier storylines and an outrage over the drug culture he said had permeated the industry led to a bitter, two-decade split with McMahon. He eventually made peace with WWE and accepted his induction into the Hall of Fame in 2013. He was inducted by Arnold Schwarzenegger.
WWE said Sammartino sold out Madison Square Garden, known as the mecca of professional wrestling, hundreds times over his career. Sammartino's family fled a Nazi invasion of his village in Italy and he hid with his mother in a mountain during the German occupation. They eventually joined his father in Pittsburgh in 1950. Bullied because he spoke little English, Sammartino dedicated himself to bodybuilding. The WWE said he once bench-pressed 569 pounds in 1959 which was noticed by promoter Vincent J. McMahon. Paul Levesque, a top WWE executive better known in the ring as Triple H, helped bring Sammartino back into the fold.
"Devastated to hear the passing of a true icon, legend, great, honest and wonderful man… A true friend…and one of the toughest people I've ever met," Levesque tweeted. Olympic gold medalist and WWE star Kurt Angle, a Pittsburgh native, called Sammartino "a hometown hero" who carried himself with dignity and was courteous to fans. Pittsburgh Mayor Bill Peduto said Sammartino was one of the city's greatest ambassadors. "Through his uncommon strength and surprising grace he embodied the spirit of Pittsburgh on the world stage," he said. "Some of the fondest memories of my childhood are of sitting in the basement with my grandfather on Saturday mornings and watching Bruno wrestle."