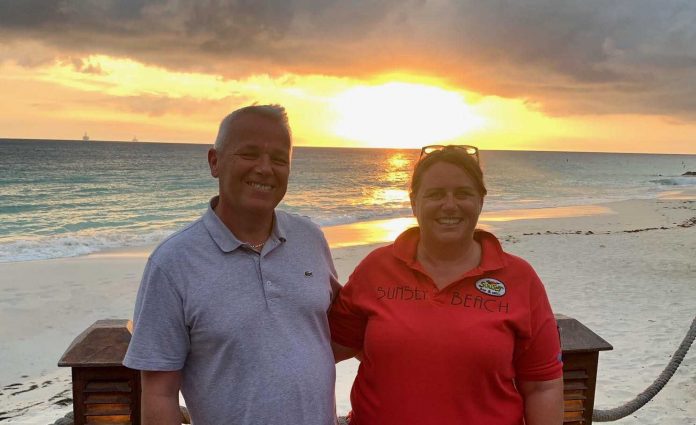 Aruba Today welcomes readers to participate in our newspaper. Now that we are open to visitors again after the three months of lockdown we are all ears to know about you. How do you feel to be back or maybe this is your first time in Aruba? Let us know! Send us a picture and tell us about your experience because we love to share this with our readers.
What do you do?
It's easy. Mail us your vacation picture(s) together with your Aruba story (Email: news@arubatoday.com) and we will publish this in our newspaper. This for sure is a great vacation memory to take home with you.
For today's newspaper we received these great pictures and wonderful words from Jamie Boland:
"We had booked to return to Aruba for a 4th time to celebrate our wedding anniversary (28 years). Unfortunately TUI (UK) had cancelled our holiday for October. At the time we were hugely disappointed, but glimmers of hope started to emerge when Aruba opened up for visitors again.  There were no flights from the UK so we decided to book directly and fly with KLM from Amsterdam, with a bit of creative planning we are celebrating our 28th wedding anniversary.  Huge thanks to Divi All Inclusives and KLM for making it happen.  From One Happy Couple to One Happy Island thank you.
Jamie and Alyson sending our best UK wishes."