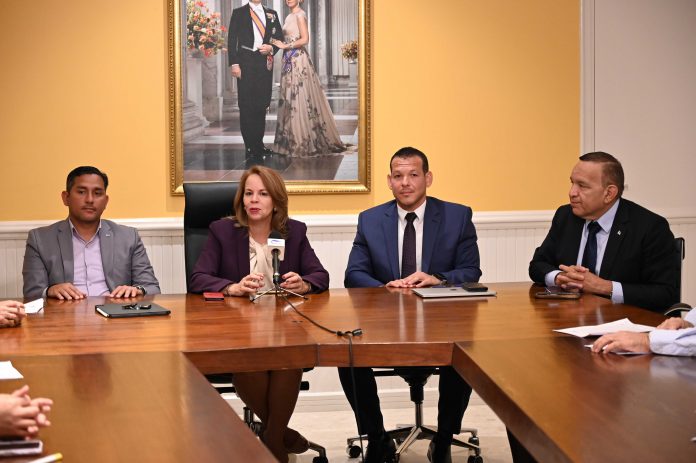 Monday night, during an important moment, minister of Justice and Social Affairs, Mr. Rocco Tjon together with his colleagues prime minister Mrs. Evelyn Wever-Croes, minister of Education and Sport, Mr. Endy Croes and minister of Transport, Integrity, Nature and Older Persons Affairs, Mr. Ursell Arends; together with CEDE Aruba and the directors of all Neighborhood Centers, signed the MoU for the execution of the Veilige Barios project.
Veilige Barios stands for Safe Neighborhoods.
As was mentioned a while ago, the Government of Aruba allocated additional funds structurally for the initiation of the project. CEDE Aruba is a strategic partner for the Government of Aruba in the execution of this project, seeing that the main goal for CEDE Aruba is to bring together resources to ensure a sustainable development. The Neighborhood Centers (Centronan di Bario) are also a crucial partner, seeing that this project means the expansion of activities in the neighborhood, so that more opportunities are created for all citizens in the various neighborhoods of Aruba, according to a press release.
For this reason, the ministry of Justice and Social Affairs approached all Neighborhood Centers to take part in this project. Simply putting funds available will not solve current problems, and it is very important to deal with the various challenges that the Neighborhood Centers are currently confronting.
That being said, the basis of the MoU that was signed will ensure more capacity for the staff at the Neighborhood Centers, but also will regularly evaluate the needs of the neighborhoods through the Neighborhood Centers. Aside from this, it will also focus on developing and executing annual programs, improve accessibility and visibility of the Neighborhood Centers in the various neighborhoods, as well as amplify and diversify funding for the programs and activities that will be provided by each center.
Finalizing, the minister expressed that he is very glad to achieve this moment, a unique and very important moment for the development in the neighborhoods, which would not have been possible only through the Government of Aruba, thus without the support of all the directives of the Neighborhood Centers, this project would not have been possible.
These are among others Fundacion Centro y Famia Piedra Plat, directors of the Neighborhood Centers of Ayo, Brasil, Dakota, Noord, Lago Heights, Piedra Plat, Playa Pabou, Tankileendert, Santa Cruz and Savaneta. The minister also thanked CEDE Aruba, that when approached was willing to take part in this project; without forgetting that this project is interministerial, thus counting with support from the ministry of Education and Sport as well as the ministry of Transport, Integrity, Nature and Older Persons Affairs, which allocated funds to make this project possible.