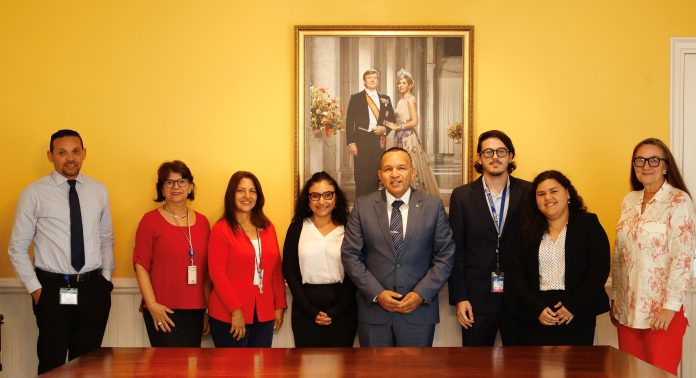 Last Thursday, minister of Education and Sport, Mr. Endy Croes held an interesting meeting with UNHCR, HIAS and IOM. The meeting was requested by the NGOs in order to discuss topics related to immigrant children residing in Aruba, who are an active part of our Education system.
The objective of the meeting, according to a press release, was also for the NGOs to inform the Government of Aruba as well as the minister of Education and Sport regarding the assistance and help that they offer, both to immigrant families with children and to local families in need of support.
Present at this meeting was Mrs. Hezaker Goze Ozdemir, Protection Officer/ Head of Office of UNHCR Aruba and Curaçao, Mr. Brandon Arends, Project Coordinator for HIAS, and Mrs. Adailyn Gonzalez, Legal Advisor for IOM.
The three NGOs are doing synchronized work and are focused on helping undocumented migrants in order that they too can prosper in life, as well as providing assistance in various ways.
Minister Endy Croes indicated that the meeting was focused on the aspect of Education for the group of children who are undocumented or do not have legal documents, so that they can also receive an opportunity for education, in order to help them develop in life and prosper, be it in Aruba or somewhere else.
The minister expressed that a lot of interesting points were brought forward, not only regarding the support that the NGOs are giving to help the children find a school, be recognized and accepted at a school. The NGOs have programs for the government, in this case regarding education, so that concrete agreements can be reached regarding the most effective way to deal with this matter in a structural way in the near future.
Minister Endy Croes indicated that he will work together with minister of Labor, Mr. Glenbert Croes on a joint policy to deal with integration of immigrant children into education.
The NGOs showed appreciation to the government of Aruba because they are abiding by agreements regarding children's rights conventions, namely by making education accessible for them. This doesn't always happen in every country, including in our region, according to the press release.
To finalize, Mr. Endy Croes expressed that it was a good meeting, very interesting, and he will maintain good communication with the NGOs with the intention of working together. "Education is the key to the future."