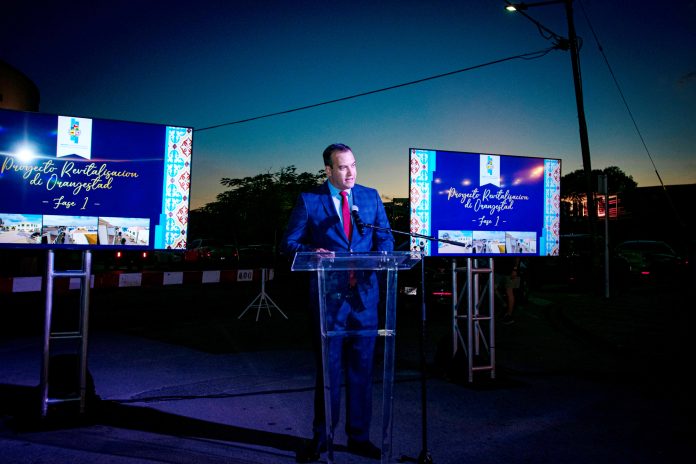 During the unveiling of the first phase of the project Revitalization of Oranjestad last week, minister of Economic Affairs, Mr. Geoffrey Wever expressed that after speaking with everyone – big and small businesses – who wanted to share their thoughts, vision, desires and concerns for the future of the Main Street, Caya Betico F. Croes, and the center of Oranjestad, the conclusion was reached that the city center needs to become a center of housing and gastronomy.
For the first phase, it was chosen to begin with the revitalization of the area of Colombusstraat and Wilhelminastraat, which will receive a public investment that will translate in infrastructural changes to enhance the area, make it more accessible to people with limitations, and include more plants to provide more shade and comfort in this public area in the city center.
There will also be investments made in more illumination for the area and more terraces and recreational areas. This way, the sense of security will increase and support will be given to investments that have already been made in the area from the private sector. Together with the private sector, the intention is to create the maximum impact with what little public funds are available.
Soon the procedure will begin for Oranjestad to be recognized as a "Culinary Capital" under the international program "World Food Travel Association", so that in time, we can reach the highest title awarded by the international program UNESCO City of Gastronomy. This title will put Oranjestad on the international map and attract new and exclusive clientele for our island.
The first phase of the Revitalization of Oranjestad is only the beginning. For a while already work is being carried out on other projects that are yet to be announced. Minister Geoffrey Wever wants to send the correct signal and show that the Government of Aruba want to partner with the private sector in development.
Creating housing in our city center is an important element to achieve the revitalization of Oranjestad. In order to give content to this vision, the necessary exercises were done to present realistic projects of such magnitude that they result in a significant increase in the amount of people in our city center. "When people live in the city center, it creates a constant flow of people who will be clientele for the businesses in the city center", Wever pointed out.
Finalizing his message, Wever expressed that he is happy with this first step to develop Oranjestad in a housing and gastronomy center. The hope is to motivate commerce, financial institutions and local and international investors to invest in our city center, Oranjestad.