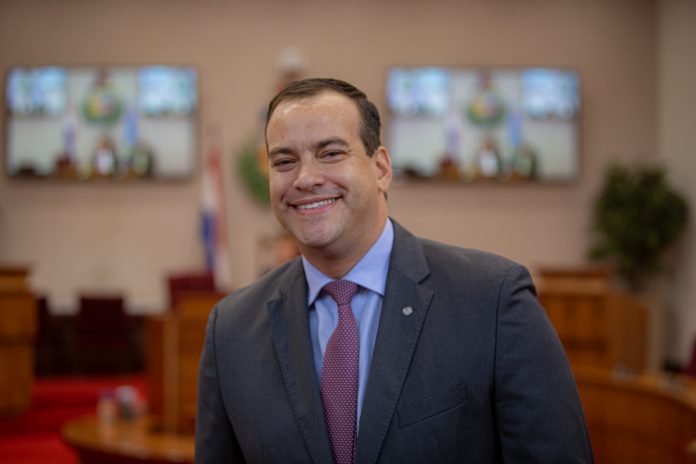 (Oranjestad)—In the month of February 2023, the Amsterdam Economic Bureau began conducing a study, commisioned by Minister Geoffrey Wever, on the economic impact of AirBnBs on Aruba. Because of a lack of information and proper management of these private vacation rental, the minister received approval from the Minister Council to commission this study. The first phase is already done, and the minister has recently received the results from the bureau.
The necessity for this study is based on the fact that each house offered as a vacation rental also means less housing for locals. The number of homes available for locals have dropped, because foreigner tend to but residential houses with the goal to rent these out as AirBnBs. With less available homes because of this recent phenomenon, but with a bigger demand for housing, prices for homes have sky-rocketed and have become to unattainable for our locals. Furthermore, these vacation homes require legal processing, which are often time ignored. The lack of compliance with the law results in an unfair competition within the market, and thus a negative effect on the Aruban economy.
"It is our duty as a government to make sure that there is a fair balance," as the minister puts it. Economic management and sustainable development from Minister Wever is based on commercial stimulation, stimulation of fair competition and participation from every citizen within the growth of Aruba, in which everyone has a fair chance to participate and achieve their goals. Each business must flourish, but of course in compliance with the requirements. Each citizen has to be able to acquire their own home.
Now that the study has been finalized, it is necessary, complying with transparency, to present these results to all stakeholder. Stakeholders will be giving the chance to gives their reaction and opinion through writing when the policy has been made: "We want to make sure that when the policy has been made, that all stakeholder can provide their insight, with the goal to present a policy that is widely accepted and one which is inclusive and fair," according to Minister Wever.
For this reason, Minister Geoffrey Wever invites all members of press and those interested to attend the presentation of the study results in order to measure the economic impact of vacation home rental on Aruba. The Amsterdam Economic Bureau, will be giving a virtual presentation of the results to all stakeholders, press and the public.
This presentation takes place on May 22nd 2023 from 11am to 1pm in the lecture hall of the University of Aruba.