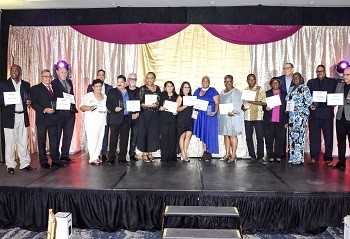 Minister Dangui Oduber had the honor to give recognition to 18 employees who have been working for over 35 years at the Hilton Aruba Caribbean Resort.
The recognition ceremony took place in the Ballroom of the Hilton Aruba where its general manager Mr. Vasco Baselli, and Mr. Rene Kan representing the hotel owners, presented each outstanding employee with their well-deserved recognition.
In 1959, Aruba's first luxury hotel, the Aruba Caribbean Hotel, was built and marked the beginning of what is our only economic pillar.
This hotel closed its doors in 1984, which was also a difficult time for many. In 1986, the hotel's doors were reopened under the name Golden Tulip Hotel, later the Radisson Aruba Resort and Casino, and currently the Hilton Aruba Caribbean Resort & Casino.
The 18 employees together have worked at this hotel for a total of 630 years. It was an evening in which they shared the trajectory of each of the 18 employees. Mr. Baselli reviewed the starting job position of each of these employees and the eloquent growth within the hotel. Working at the same place for 35 years is impressive, but doing this without calling in sick for one single day is astonishing. It was the case for one of the 18 employees who worked tirelessly for 35 years in our tourism industry. The Minister thanked each one of the 18 individuals for their hard work. They are an inspiration to everyone for having dedicated a considerable part of their lives to our tourism industry.