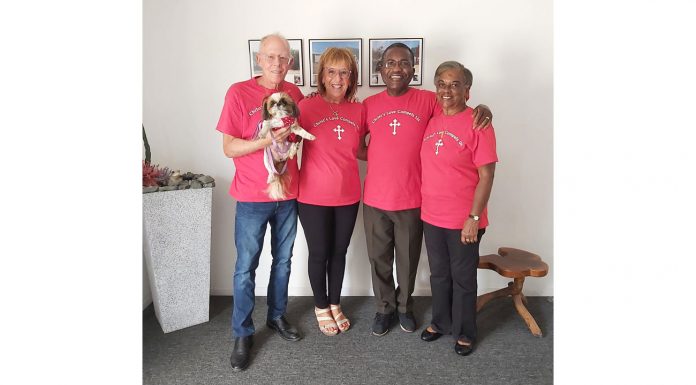 The Methodist Church Aruba Circuit has been serving the Aruban community for over 60 years with different programs, like Meals on Wheels, Give Away and other social needs and/or assistance. This Saturday, they will be having a Silent Auction and food fundraiser, the proceeds of which will aid in the continuation of all their programs.
"We have all had to cope with the results that the pandemic of Covid-19 has brought", Michael Faulkner, who is coordinating the auction together with Sue Faulkner, said. "Nevertheless, it didn't close our hearts in serving. To continue serving, we are requesting your participation to help us do what we do best."
The Silent Auction and food fundraiser will take place on Saturday, November 26, from 4pm to 7:30pm at the John Wesley Auditorium, located in Bernhardstraat 29, San Nicolas. The proceeds of the fundraiser will allow them to continue their work.
Some of the items that will be auctioned include autographed items by baseball star Xander Bogaerts, artwork, restaurant gift certificates, and a three-night stay at Lodging Lagoona Studios.
The complete list of items is below.
Xander Bogaerts autographed items jersey, T-shirts and balls.
Artwork
Plaza bookstore by Renier- paintings 4
Steve Francees- beach painting
Clothing, shoes, accessories
Chely's gifts & souvenirs in aruba Beach Club- holiday
T'shirts, Aruba T'shirts, assorted items
Fashion Angelo World -GC for 200 florins
Little Ones/ Baby's Palace- spend 100 florins get 25 florins off
Palais Oriental- 2 GC each worth 100 florins
Shoebaloo- GC for 50 florins
Vip Gift & Souvenirs- assorted bracelets for all, great stocking stuffers
Lobster Bowtie- $30
Computer lessons
Worth 200 florins. For 10 basic or advanced computer or smartphone use classes with wisdom Learning Edu Consultancy by Jacqueline Woodley, owner
Electronics
Sam's –gc for 75 florins
New Roku Express stick worth $30
Fishing Fly & Spin fishing by Captain Laurenz van Mook 3 hrs with drinks for 2 worth $300
Food
Cupcake garden GC for 6 cupcakes in gift box worth -25 florins
Ruth's Cakes- GC for $50
10 johnny cakes filled with cheese
10 johhny cakes filled with cheese
10 pastires filled with spinach
10 pastries filled with chicken
Snack bag from Casa del Mar mini market – $50
Home
Curtain Call Window Fashions GC for 100 florins
Flora – 5 GC each worth 50 florins
Graco Pack n'Play, sheets and towel- $150
Wood Dominoes donated by la moderna
Crystal ashtray and vase
Handmade needlepoint about little boys- $25
Sankey double burner stainless steel- $25
Handmade mom and daughter aprons- $37
2 sets of 2 red sox potholders-each set worth $12
3 sets of flamingo potholders- each set of 2 worth $12
Set of 4 deluxe porcelain dessert plates- $30
8 pottery Christmas ornaments- $10
Home & Diner- etagere- $20
mini chopper by Premium- $20
set of 4 bowls, dessert plates and saucers- $20
3 men's hankerchiefs- $10
3 men's hankerchiefs- $10
Presto electric griddle- $40
beach bag from Casa del Mar mini market- $50
Lodging
Lagoona Studios- 3 night stay for 2 people worth $450
Office Supply, Bookstore
Seasons- 2 gift bags with supplies each worth 60 florins
Dewit & Van Dorp- 3 gc each 50 florins
Friends of God bookstore- 2 gc each worth 15 florins
Paper Goods
All paper goods supplied worth $300

Personal Care
Aruba Dental- GC for dental whitening worth 450 florins
Bon Salud Chiropractor- 15 minutes in the message chair-$25
Bon Salud Chiropractor new patient intake appointment-$167
Bon Salud Chiropractor Balsem duo of cremes- $20
Bon Salud Chiropractor- Chira gel-$35
Disenos Beauty Salon- GC for $100
Kok Optica- GC for 100 florins
Pest Control
Primito Pest Control- GC for 185 florins
Pets
Just 4 Pet- 2 GC each for a complete spa day price worth more for larger animals- 125 florins each or more for bigger dog

Photography
Checkpoint the Photo Factory- GC for 1 family studio photoshoot-worth 175 florins
Restaurants
Big Mama's- GC 100 florins
Bistro de Suikertuin- GC worth 50 florins
Bistro de Suikertuin- GC worth 50 florins
Bits & Cheese- GC for $20
Charlie's Bar- 100 florins
Cocoplum- GC for 70 florins
Cuba's Cooking- GC for 100 florins
Delimar- GC for $50
Driftwood- GC for special menu for 2 worth $60
Dutch Pancake House- GC for $50
Eduardo's Hideaway- GC for $50
El Gaucho- GC for dinner for 2 worth 150 florins
Ellioti's Restaurante Italiano- GC for $70
Hung Paradise- GC for 30 florins
Ike's Bistro- GC dinner for 2 on Thursdays for paella night including glass of sangria each -worth- $85
Ike's Bistro- GC breakfast for 2 worth $40
Kalin's Real Mexican Food- dinner for 2 worth $80 for food only
Kamini's Kitchen- GC for 100 florins
Lima Bistro- GCfor $100
Marhaba Lebanese Aruba- GCfor 100 florins
Matthew's Beachside Restaurant – GC for $100
O'niel's Caribbean Kitchen- GC for 150 florins
Papiamento- GC for $150
Picnic- royal breakfast for 2 on beach with setup on beach for 2 hrs. Worth $200
Pizza Bob's- GC worth $30
Pizza Bob's-GC worth $30
Ricardos- GC for breakfast for 2- $37
Taste My Aruba- GC for $100
Tatami Suishi Bar- GC for $70
West Deck- GCfor 125 florins