Defense on Aruba is the responsibility of the Kingdom of the Netherlands. The Netherlands Military forces that protect Aruba include the Royal Netherlands Navy, the Netherlands Marine Corps and the Netherlands Coastguard. There is also a small indigenous "ArubaanseMilitie" (ARUMIL) of about platoon strength. All forces are stationed at Marines Barracks Savaneta. Here are some activities that have been happening lately with the marines.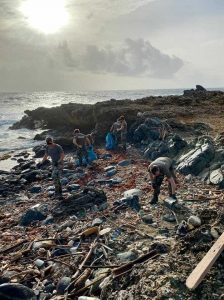 Hurricane Exercise completed
Defense in the Caribbean 'Returns to base' of Hurricane Exercise Upperwind Islands At Sint Maarten, Sint Eustatius and Saba, the Hurricane Exercise has been completed. The focus was on logistics relocation from Aruba, Curaçao and the Netherlands towards the (practice) disaster area during a possible hurricane adjustment. This was done by both the air and the sea, with the last one the transport ship Zr. Ms. Ms. Pelican played a crucial role. Explorations have been made on the islands so that soldiers can easily know their way there if they have to operate there. In addition, various infrastructure facilities have been considered, such as power plants, bridges and the state of a number of roofs. Loose debris can be a major threat if it is taken by strong wind gusts.
Various parties such as the World Health Organization and the Dutch Representation of the Netherlands have given presentations to executives about their working methods. This allows for cooperation quickly and effectively during a possible hurricane adjustment.
The department responsible for communication between units successfully established various types of connections for this exercise. Connections are conditional for a good effort.
Defense is ready for the population within the Kingdom where needed, anywhere in the world.
All Hens
An All Hens took place at the Marine Barack in Savaneta last week. It looked back at the past six months and looked forward to the coming period.
A silver medal has been awarded, which stands for 24 years of honest and faithful service.
Two colleagues of the Royal Army were allowed to receive their Bronze medal, which stands for 12 years of honest and faithful service.
Two colleagues from the ARUMIL also received the Aruban medal. This medal represents 6 years of loyal service at the Aruban Military.
During these all hands, there were 6 colleagues promoted, an officer and 5 petty officers. In addition, colleagues were highlighted with rewards being awarded.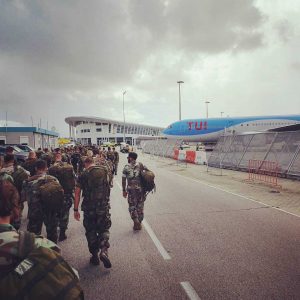 Beach clean-up
Last weekend MSKSAV staff did a beach clean-up on the North Coast of Aruba.
About 40 marines have cleaned up littering around the Lighthouse and Alto Vista chapel area.
This turned out not to be unreal, about a truck full of dirt was removed from nature.