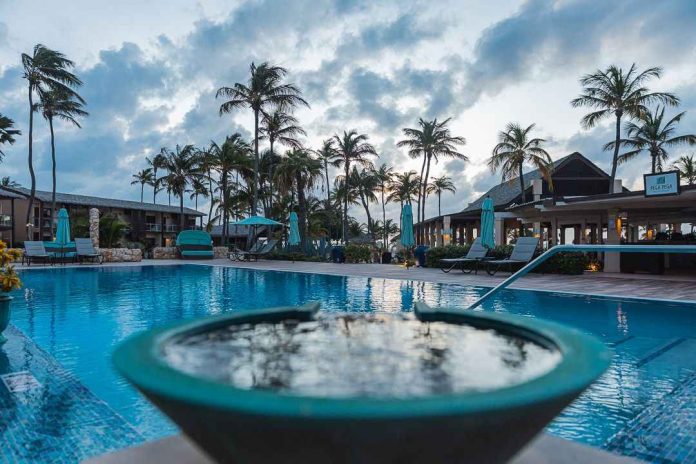 There is no arguing whether to dine at a trendy, untraditional venue or enjoying the classic mood because at Manchebo you get it all in one. Ike's Bistro and The Chophouse at Manchebo Beach Resort & Spa have an amazing Christmas Dinner featuring your classic Christmas offerings, while Caribbean-style menu options shake it up.
You can't beat the classics but for sure add local twist options as we are in the Caribbean after all. Manchebo Beach Resort & Spa has an established name on the island for many years and beats it all with their amazing outdoor dining under the gazebo. Here you encounter elegance in an informal way, culinary heights with both feet on the ground and genuine smiles from the staff.
The covered patio of Ike's Bistro will be your home for the family gathering, your host to this special, Christmas evening and your comfort zone to indulge in culinary highlights. It is all about the feel this night and the resort has everything you need for a fabulous feast. Just gaze over the pool and palm trees and let Aruba's breeze take you away to a journey with the delicacies of Chef Sandro Herold.
Christmas with taste
Aside of the regular menu Manchebo Beach Resort & Spa offers a 4-course Christmas menu for only $US 65 per person including tea/coffee available on December 24, 25 and 26.
You will start off with the Caribbean Style Crab Cakes or Shrimp Antiboise or a Refreshing Arugula-Watermelon Salad followed by an Oxtail Broth.
The main course offers wonderful choices such as, Chef's Christmas Special Wild Hare with red-wine poached pear and glazed Brussels sprouts, potatoes au-gratin and rosemary gravy sauce. Steak Oscar is a 5oz filet mignon with shrimp and sauce Béarnaise served with green asparagus and skin-on mashed potatoes. Another delicious choice is the wild-caught skin-on Halibut pan-seared in garlic butter and served with soba noodles. Or go for the tender and juicy Duck Leg Confit with garlic mashed potatoes, steamed broccoli and red-wine glaze.
Pick a heavenly dessert like Pecan Pie served warm with hazelnut ice cream or warm apple Strudel served with cinnamon ice cream.
The restaurant naturally lends itself to social distancing as it is open-air, set perfectly by the tropical pool. Ike's Bistro and The Chophouse have an established name on the island for its excellent food and highly-rated service level. Come over to celebrate your Christmas and create a lifetime memory. Manchebo Beach Resort & Spa is waiting on you!
Reserve your Seat: Tel: +297 522 3444 | Email: ikesbistro@manchebo.com.