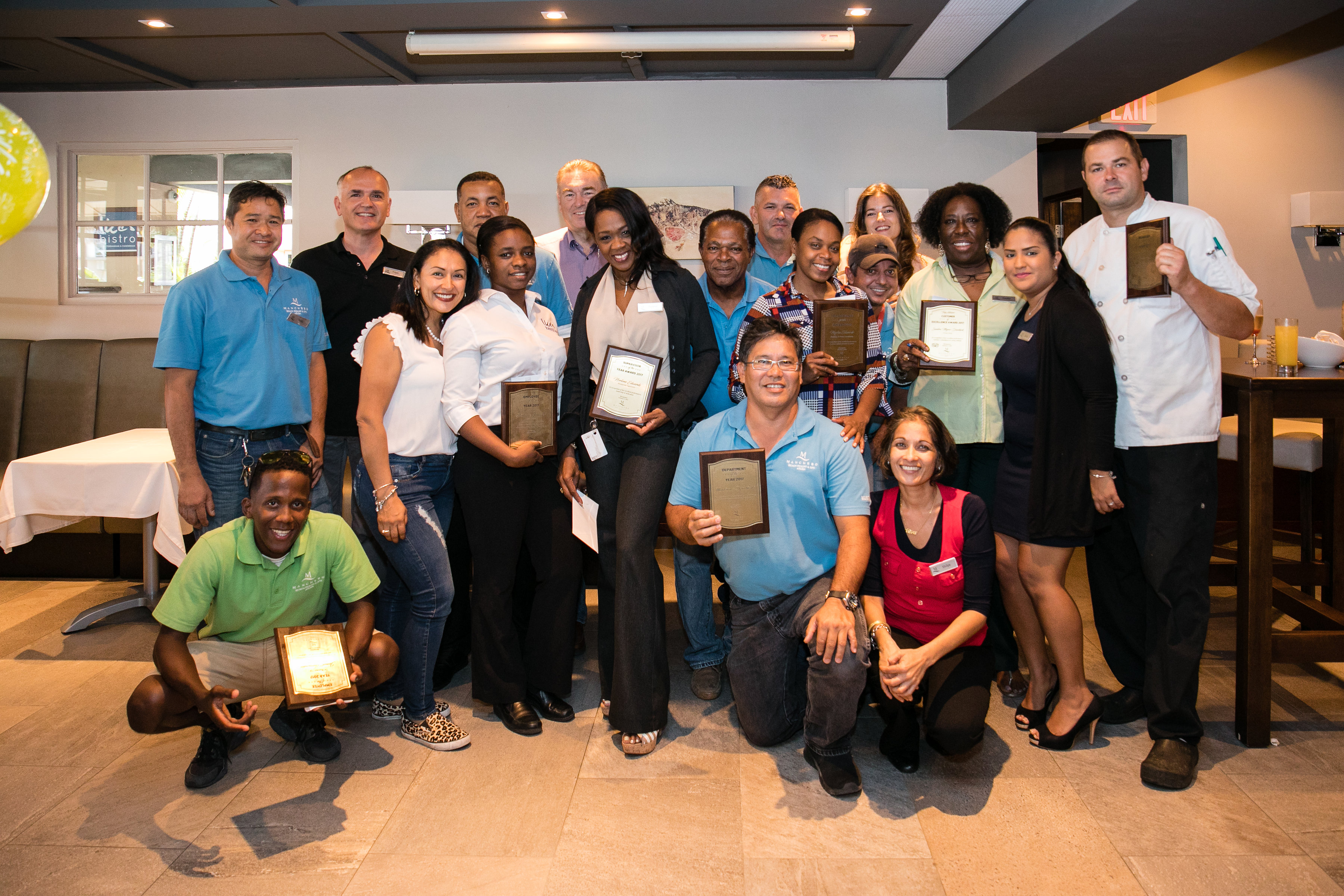 EAGLE BEACH – During a festive celebration at The Chophouse of Manchebo Beach Resort & Spa on February 9, 2018 General Manager Edgar Roelofs and his team had the pleasure to present the highly coveted Manchebo 2017 Awards. "It's the 150 Team Members from the front and back of the house who make the Manchebo Beach Resort & Spa the # 3 Resort on Aruba for TripAdvisor reviewers over the past years.
Even better as of 2017 we have 3 restaurants in the Top 15 on TripAdvisor for the Eagle/Palm Beach area – Masha Pabien to the teams of The Chophouse at # 7, Omakase Sushi Bar at # 4 and Ike's Bistro at # 12 for your dedication and customer service excellence." highlights Edgar Roelofs in his address to the team.
Employee of the Year 2017 is Stephanie Arrindell waitress at Ike's Bistro followed by 1st runner-up Josuel Hernandez pool & beach attendant and 2nd runner-up Setchel Rijsdijk of the bellmen / security department. Harold Rasmijn the resort's proud 2017 AHATA Excellence – Employee of the Year – Award recipient had to honor to present Manchebo's Top 3 employees the 2018 TripAdvisor Traveler's Choice Award as one of the Top 25 Hotels for Romance in the Caribbean.
The resort's TripAdvisor Excellence Award for most customer mentions during 2017 went to Sandra Myers-Duinkerk of the Front Desk while the Guest Recognition Award was presented to Alejandra Sanchez beach cocktail waitress at the Pega-Pega Beach Bar. The Supervisor of the Year 2017 Award was presented to Norlene Edwards restaurant supervisor at The Chophouse while the Manager of the Year 2017 award was presented to resort's executive-chef Sandro Herold for their team work and leadership.
Special recognition was also bestowed to Nyoka Edwards who received the Professional Pride Award for her dedicated and flawless efforts with our 'brides & grooms' as our resort wedding planner. Furthermore, recognition was given to the Rooms Sales Team of the resort receiving the inter-departmental Team Work Award for achieving excellent resort occupancies and revenue growth. The Department of the Year Award was presented to the Maintenance Department for their team efforts of continuously maintaining and upgrading the 51-year old resort in great fashion.
Manchebo Beach Resort & Spa is an intimate 4-star + boutique resort located on the shores of majestic Eagle Beach, an ideal place for romantic and rejuvenating getaways. The 2-story resort offers Deluxe Ocean and Deluxe Garden View Rooms with attention to details and amenities, including spa-like bathrooms with a rain/waterfall shower. The beach-side exotic Caribbean-Balinese style spa offers a variety of massages and body treatments. The wellness program is completed with daily complimentary yoga & Pilates classes and a fitness center. The culinary program includes The Chophouse, Ike's Bistro, Pega-Pega Beach Bar & Grill and Omakase Sushi Bar.