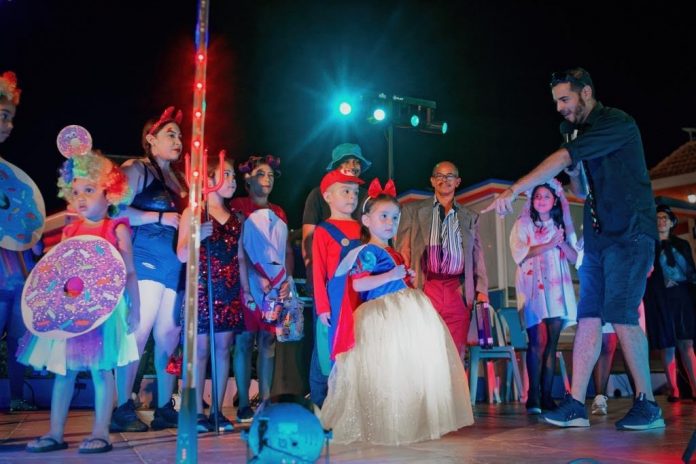 Paseo Herencia is celebrating Halloween with three days of family fun starting on Friday, October 28th to Sunday, October 30th. Events will take place on the Plaza Padu, in the cinema elevator and on stage with live entertainment, Halloween trunk show, Trick or Treating event and much more.
Paseo Herencia is an outdoor entertainment center, located on the hotel strip across from the Holiday Inn, with a variety of shops, restaurants and the Caribbean Cinemas. Visitors can enjoy nightly entertainment with live shows on stage and the popular watershow. During this Halloween weekend there will be special performances and fun games on stage with other spooky activities on the plaza.
Watch your favorite scary movies come to life in the Haunted Cinema Elevator on Friday, October 28th from 7pm to 10pm. Experience a short and haunting lift before catching a scary movie at the Caribbean Cinemas. Visit the elevator on the first floor behind the cinema escalators.
Saturday is all about the family-friendly Halloween Trunk Show. Check out the spooky decorated cars in the Paseo parking garage from 5pm to 8pm followed by live entertainment and dance show on stage.
Dress up to your favorite Halloween character, grab your Halloween Bag and go Trick or Treating on Sunday, October 30th starting at 5pm. Complimentary Halloween Bags will be given to the first 500 kids in Halloween costumes. Catch the Halloween Show on stage at 6pm with dance performances, fun games and prizes and close the night with a Halloween themed watershow.
During the Halloween weekend, grownups can also enjoy Halloween with a twist with the Spooky Bar Crawl event. Catch a sip of the frightening Halloween drinks during the whole weekend at the participating bars for only $5. Collect 3 drinks and participate to win fun Halloween prizes.
Visit the Paseo Herencia website at www.paseoherencia.com to learn more about this event and to see all Halloween deals and promotions.