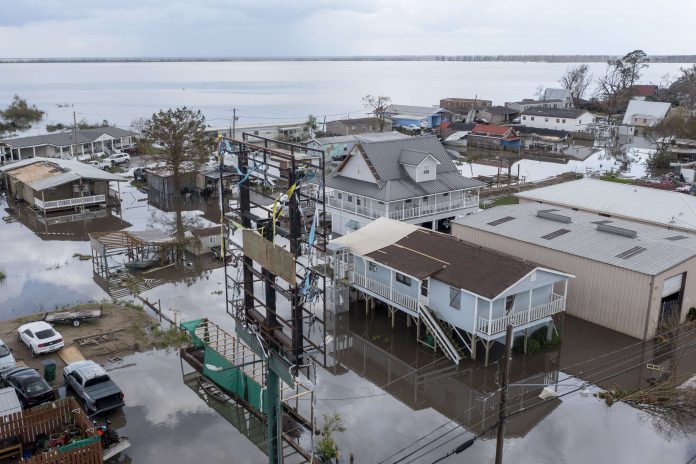 By KEVIN McGILL
Associated Press
NEW ORLEANS (AP) — Louisiana and nine other states filed a lawsuit against the federal government Thursday to block sharp increases in national flood insurance rates that are slated to be phased in over the coming years, saying the steeper price could cost some people their homes.
Dozens of local Louisiana governments and flood control districts also are plaintiffs in the lawsuit, which was filed in U.S. district court in New Orleans. The Department of Homeland Security and the Federal Emergency Management Agency are among the defendants.
Louisiana Attorney General Jeff Landry joined several local officials and business leaders at a news conference announcing the suit Thursday morning.
FEMA has said its new premium system is an improvement over past methods, incorporating data that wasn't used in the past, including scientific models and costs involved in rebuilding a home. The agency has said the old method could result in people with lower-valued homes paying more than a fair share while those with higher-value homes pay relatively less.
However, Louisiana officials have been complaining for months about the coming rate hikes, saying they could impose impossible financial burdens on some in the state.
Increases are capped at 18% annually. But when they are fully implemented, some residents will be paying significantly more.
An April analysis of Louisiana rates by The Times-Picayune/The New Orleans Advocate put the average increase in the state at 134%. But officials have been pointing to various individuals facing eventual tenfold increases in their annual premiums, including some whose homes have never flooded.
In a lawsuit filed in April seeking access to information and data used to calculate rates, St. Charles Parish officials said the average cost of flood insurance policies there will increase from $815 to $2,766 annually.
At Thursday's news conference, state and local officials renewed complaints that federal officials have refused to divulge methodology and data used in computing the new rates. And, they said, the new premium rates fail to take into account individual homeowners' flood mitigation efforts, such as house raising, or local governments' construction of levees and other flood protection measures.
The high rates could drive some people from their homes, bring on foreclosures and contribute to Louisiana's loss of population, Landry said. "We want reasonable, reliable premiums so that Louisiana can grow and thrive," he said.
Florida, Idaho, Kentucky, Mississippi, Montana, North Dakota, South Carolina, Texas and Virginia are the other states listed as plaintiffs by Landry's office. "It's not just a coastal issue, although it does deeply, deeply impact our coastal communities," Louisiana Solicitor General Elizabeth Murrill said. "It impacts working communities. It impacts anybody who lives near water."
FEMA declined comment in an email, citing a policy of not commenting on pending litigation.