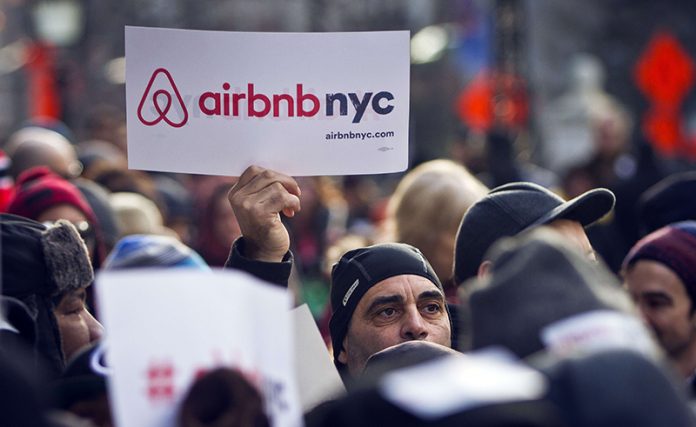 Associated Press
NEW YORK (AP) — Airbnb sued New York City on Thursday over an ordinance that the company says imposes arbitrary restrictions that would greatly reduce the local supply of short-term rentals.
The 2022 ordinance, which the city plans to begin enforcing next month, would require owners to register with the mayor's office, disclose who else lives in the property, and promise to comply with zoning, construction and maintenance ordinances.
Airbnb said called the restrictions "extreme and oppressive" and a de facto ban against short-term rentals that left the company no choice but to sue.
"Taken together, these features of the registration scheme appear intended to drive the short-term rental trade out of New York City once and for all," Airbnb said. The company said the mayor's Office of Special Enforcement "failed to consider reasonable alternatives."
The mayor's office did not respond immediately to a request for comment.
San Francisco-based Airbnb filed the lawsuit in state court in Manhattan. Three Airbnb hosts filed a companion lawsuit against the city.
Airbnb sued New York state in 2016 over a ban on advertising short-term rentals. It dropped that lawsuit when the city promised not to enforce it. In 2020, Airbnb settled a lawsuit against the city over monthly reporting requirements for its listings. Airbnb said the 2022 ordinance violates both settlements.
The New York restrictions are among many efforts by local communities to regulate short-term rentals without banning them. New Orleans is among cities taking on the rental giant, after a court struck down a previous law.
In some places, opponents have raised concerns about noise and safety. Critics also say the growth of short-term rentals pioneered by Airbnb has contributed to a shortage of affordable housing for residents, particularly in vacation towns. Those complaints extend far beyond U.S. borders.
On Thursday in Italy, the popular tourist destination of Florence announced an immediate ban on new vacation rentals in the city's historic center.