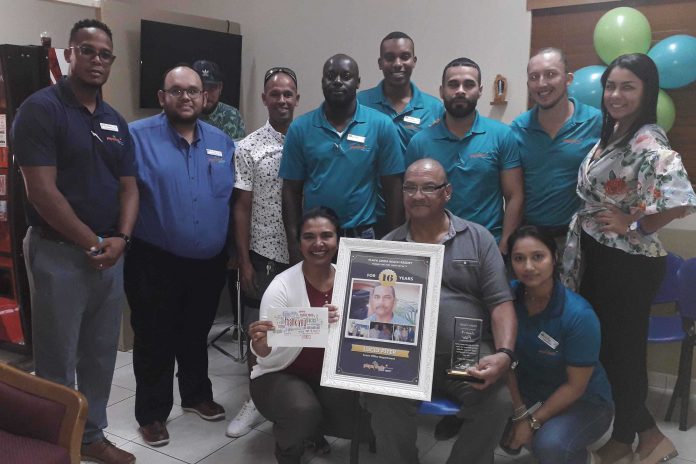 The quality standards for which the Playa Linda Beach Resort is known are a result of the example set by long-time employees, including Florencia "Gloria" Koolman, Catharina "Rina" Angela, Lucio Piter and Cecilia Charles, who have served as role models while making ongoing contributions in ensuring resort members and guests always enjoy excellent vacations stays. Career accomplishments were recently recognized for these employees marking decades-long work anniversaries as well as transitions into well-deserved retirements.
After dedicating thirty years plus to the Playa Linda, Housekeepers Gloria and Rina are each heading toward enjoyment of their retirement years. Gloria received her send-off after marking her three-decade-long career last year. She was a well-respected face at the resort, and had moved to a leadership position as a supervisor, and it was with a great deal of emotion that accompanied goodbyes from colleagues and staff.
Rina marked thirty years on February 19, 2020, and also looks back over a career filled with hard work but also of lifelong friendships and career accomplishments. She earned her supervisory position after going above and beyond, especially during the early years of the resort and in successfully dealing with everyday challenges. She became a resource to her fellow housekeepers and also a favorite among guests.
Recent retiree Lucio Piter, who also marked a respectable amount of years, with a 16-year career with the Playa Linda as a night auditor reliever in the Front Office, was also honored for his invaluable contributions. An example of his winning ways and appreciation for his talents resulted in being named an Employee of the Year in 2010.
Still going strong is Cecilia Charles, who hit her 30-year anniversary in February of this year, but who has no plans, as of yet, to retire. Cecilia was hired as housekeeper when Playa Linda was still in its first phase of construction. As part of a much smaller housekeeping team at the time, the work consisted of long hours, and she often stayed late to ensure lobby and rooms were sparkling clean. Although the work was never easy, she says she found great satisfaction at the Playa Linda, both at the start and into the current day, having formed lasting ties with her colleagues as well as with many of the return visitors and members of the resort. These ongoing relationships, as well as the family environment at the resort, keep her looking forward to coming to work each day.
Separate events were held to honor all of these exceptional employees, with Playa Linda Beach Resort executive staff expressing special thanks for their dedication as well as each one's individual talents that have contributed to Playa Linda's unique blend of outstanding hospitality. q