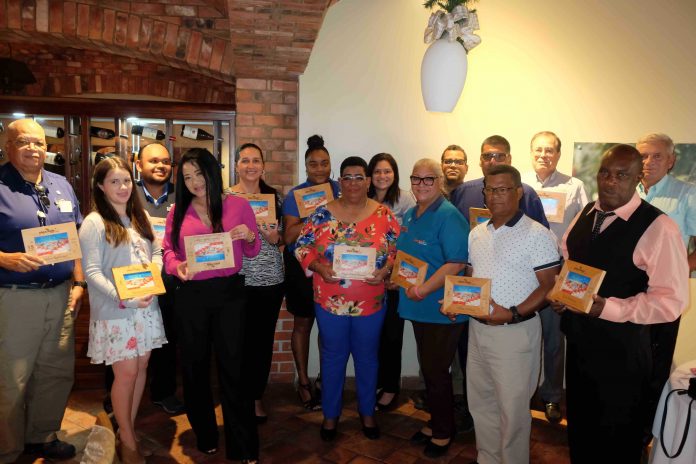 The holiday season kicked off to a festive start at the Playa Linda Beach Resort with a celebration of valued team members who marked a milestone work anniversary this year. A recent anniversary lunch, held appropriately on Thanksgiving Day, was made even more joyous in being able to gather together to recognize accomplishments and share in well-deserved recognition. It has been the combined talents of Playa Linda's long time employees that have helped guarantee the delivery of an outstanding vacation experience even during the height of unusual times.
Many of the honorees are well known to return members and guests of the Playa Linda and have proven skilled at making an indelible impression on even first time visitors. Topping this year's list is Alvaro Gonzalez whose career at the Playa Linda spans an impressive 35 years as an integral part of Membership Accounting. The level of dedication demonstrated by Maira Trimon-Maduro throughout her 30 years in Housekeeping proves why Playa Linda's largest department is indeed the "heart of the house". Lourdes Croes Bello, representing Housekeeping as well, but also well known for her past role at the Front Desk, is another favorite of guests with 25 years on the job. Most well known among visitors may be Kirk McKenzie, a long time employee with Grounds and a familiar face on the beach, who, after 25 years, still demonstrates an unflagging energy, helpful hand and infectious friendliness.
This year's group of 18 honorees represents a combined total of 280 years of know-how and hospitality acumen. Playa Linda's own General Manager Peter van Grinsven is among the 20-year honorees that also includes Belquis Francisco Almonte from Housekeeping, Miangely Faro from Membership Accounting and Engineering's Pedro Ogando-Amparo and Gerald Naar. Celebrating 15 years with the Playa Linda are Hubert Ridderstaat from Engineering and Luders Cadevil from Grounds. Also represented this year are many 5-year employees who in a relatively short amount of time have made a big impact and include Pauline Taylor-Dijo from Activities, Jacob de Mey from Accounting, Rousanne de Weever from HR, Yolaime Valencia Lopez from Loss Prevention as well as Reservations' well-oiled team of Monique Hodge, Solange Croes and Lisette Ras. All honorees received a plaque, the customary envelope and gratitude for individual contributions that cement the foundation of what helps set the Playa Linda Beach Resort apart as a top choice for an Aruba stay.
Alvaro Gonzalez, who after working with Playa Linda for 35 years, sums it up best, as to what makes the resort so special for both employees as well as members and guests. "We all belong to an extended Playa Linda family. Since the inception of the resort, through its construction phase through the many upgrades that followed, Playa Linda has its own unique style that distinguishes us from other timeshares and resorts on the island, which combined with its excellent location, truly creates a special, singular 'home away from home' environment for everyone."
Playa Linda Beach Resort Aruba sits beachside on world famous Palm Beach, and at the center of the island's best selection of dining, shopping and activity options. It's 215 spacious suites — featuring nine different suite categories, each with fully-equipped kitchens – and resort amenities including on-property laundry facilities, two pools, two Jacuzzis, concierge services, daily activity program and varied dining and shopping options, create an upscale, community-centered environment for families, couples and friend groups seeking Aruba hospitality at its finest.