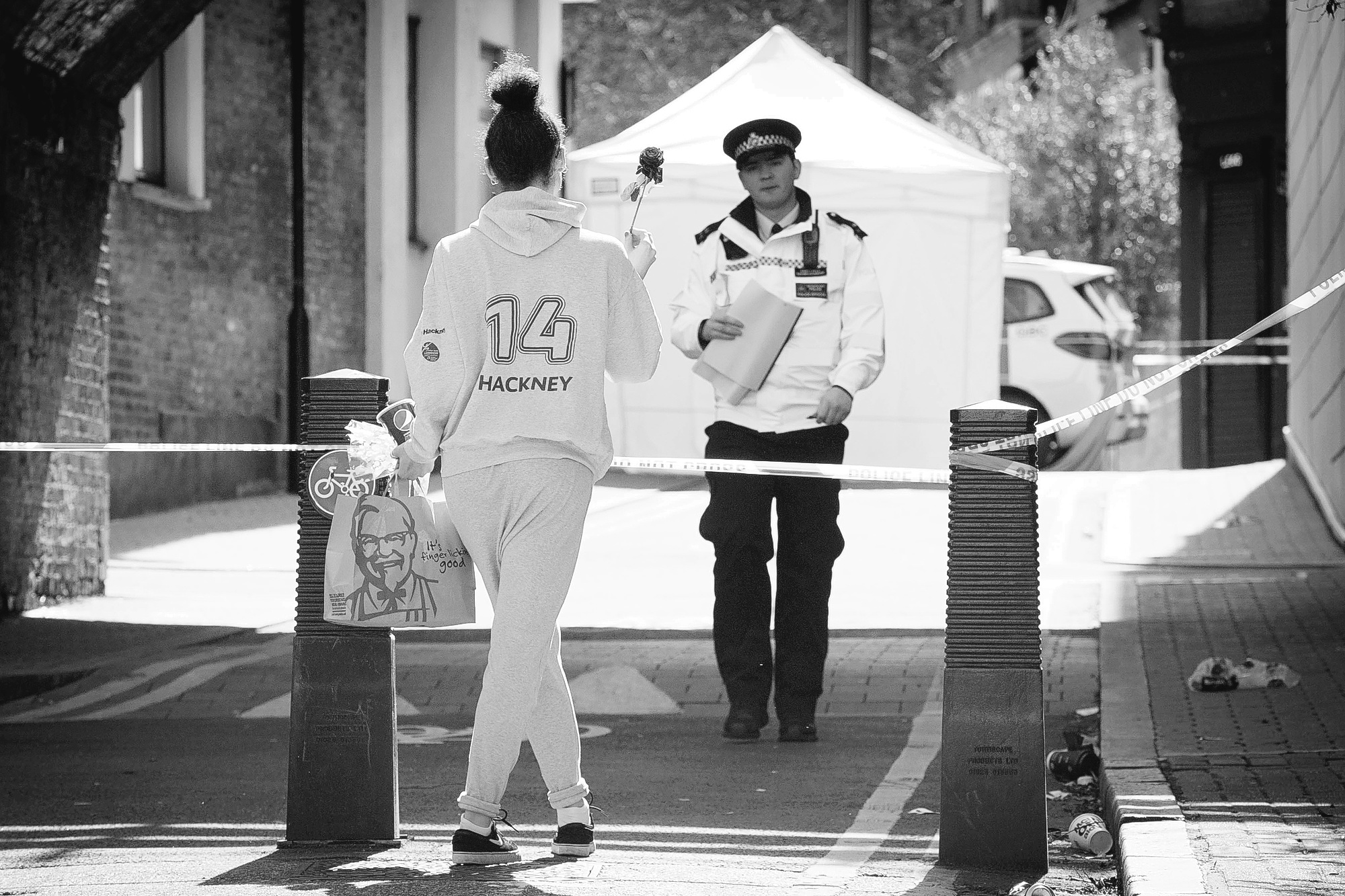 By JILL LAWLESS
Associated Press

LONDON (AP) — Friends say Israel Ogunsola was a bubbly young man with a knack for making people laugh. This week the 18-year-old was stabbed to death,becoming London's 53rd murder victim of 2018. The British capital is being shaken by a spike in deadly violence, much of it involving young people with knives caught up in gang feuds. The causes are disputed and so are the solutions. But the pain is raw.
"I'm still in disbelief, because I don't understand why," said 19-year-old Nella Panda, standing beside a police cordon in the east London borough of Hackney, yards (meters) from where Ogunsola collapsed on Wednesday evening. Police and an off-duty paramedic battled to save him, but he was pronounced dead 25 minutes later. "He was just a nice bubbly person," Panda said Thursday. "He made friends with everybody … it was always a good time when you was with him."
Ogunsola was the 12th teenager to die violently in London since January. Many of those arrested for the killings are also in their teens and 20s. Most of the city's murder victims were stabbed to death. Guns are tightly restricted in Britain and shootings are relatively rare. If the bloody trend continues, London will far surpass the 130 murders in 2017 and reach a number not seen since the early 2000s. In February and March, London hit the unwanted milestone of recording more homicides than New York.
The cities are roughly the same size, with more than 8 million people, and have similar extremes of poverty and wealth, but London has never recorded more murders in a year than the U.S. metropolis. New York had 290 homicides in 2017, the lowest number in decades. Police and community workers say London's surge in violence is partly driven by battles over control of the illegal drug trade and a "postcode war" between street gangs. Some victims were targeted, while others may have been in the wrong place at the wrong time — such as 17-year-old Tanesha Melbourne, killed in a drive-by shooting on Monday as she hung out with friends.
As well as multiple causes, there are multiple candidates to blame for the city's rising homicide rate. Some have criticized London Mayor Sadiq Khan, who oversees London's Metropolitan Police. But most of the police budget comes from the British government, which has cut funding to police forces by more than 20 percent since 2010. Khan said Thursday that rising crime is a national problem and "I can't solve it by myself."
"Since I first became mayor, I have been saying to the government that it's not sustainable to make the level of cuts they have been making to London," he said. The deficit-cutting Conservative government has also slashed funding to local councils, which run many social services, leading to the closure of youth clubs, libraries and programs for young people. Money is not the only concern. Some argue that crime-fighting has been hampered by curbs to police stop-and-search powers — a decision made by then-Home Secretary Theresa May, who is now prime minister.
Metropolitan Police Chief Cressida Dick has blamed social media for allowing disputes to escalate rapidly, taking young people "from slightly angry with each other to 'fight' very quickly." Labour Party lawmaker David Lammy, whose Tottenham constituency in north London has seen four murders this year, blamed international gangs supplying the multi-billion dollar cocaine trade that he said made Britain "the drugs market of Europe."
"Drugs are prolific," Lammy told the BBC. "It's like (food-delivery service) Deliveroo. They're as prolific as ordering a pizza. You can get them on Snapchat, WhatsApp. That in the end is driving the turf war and it's driving the culture of violence." Former police officer John Carnochan has seen a city in the grip of violence, and thinks he knows how it can be turned around. In the early 2000s, the Scottish city of Glasgow was known as the murder capital of Britain. In 2005, Carnochan co-founded the Violence Reduction Unit, which decided to treat violence as a public health issue, rather than simply as a law-and-order problem.
"It gave us a new language. We could start to speak about prevention," said Carnochan. "Because law and order, criminal justice, didn't think about prevention. Our idea of prevention was an alarm, or bars on your windows." In Glasgow, prevention meant police working alongside teachers, social workers and others to "share the problem out" and find solutions. It also meant going to the young men involved in violence and offering alternatives — something many eagerly seized.
"When you say it out loud it seems so obvious," Carnochan said. "If you are a young man leaving home every night and you feel you have to put a knife down the waistband of your trousers to go out, that can't be a good thing." Between 2005 and 2015, the number of murders in Glasgow fell by half. Carnochan thinks a similar approach would work in London. But solutions seem a long way off in Hackney, an area of poverty and gentrification, where public-housing blocks stand alongside million-pound ($1.4 million) Victorian houses and fashionable boutiques.
Police have arrested two 17-year-olds in Ogunsola's death, but young people worry that more tit-for-tat violence will follow. "People are just angry with life, and with this it's just going to make more people angry and it's just a continuous cycle of anger," said Panda, the victim's friend. She is mourning a friend she ran into just a few hours before he died and asking unanswerable questions. What if he had not been on that spot at that time? What if medical help had come sooner? "His mum and his dad could have been holding their son today in the hospital, instead of getting ready to bury him six feet under," she said.