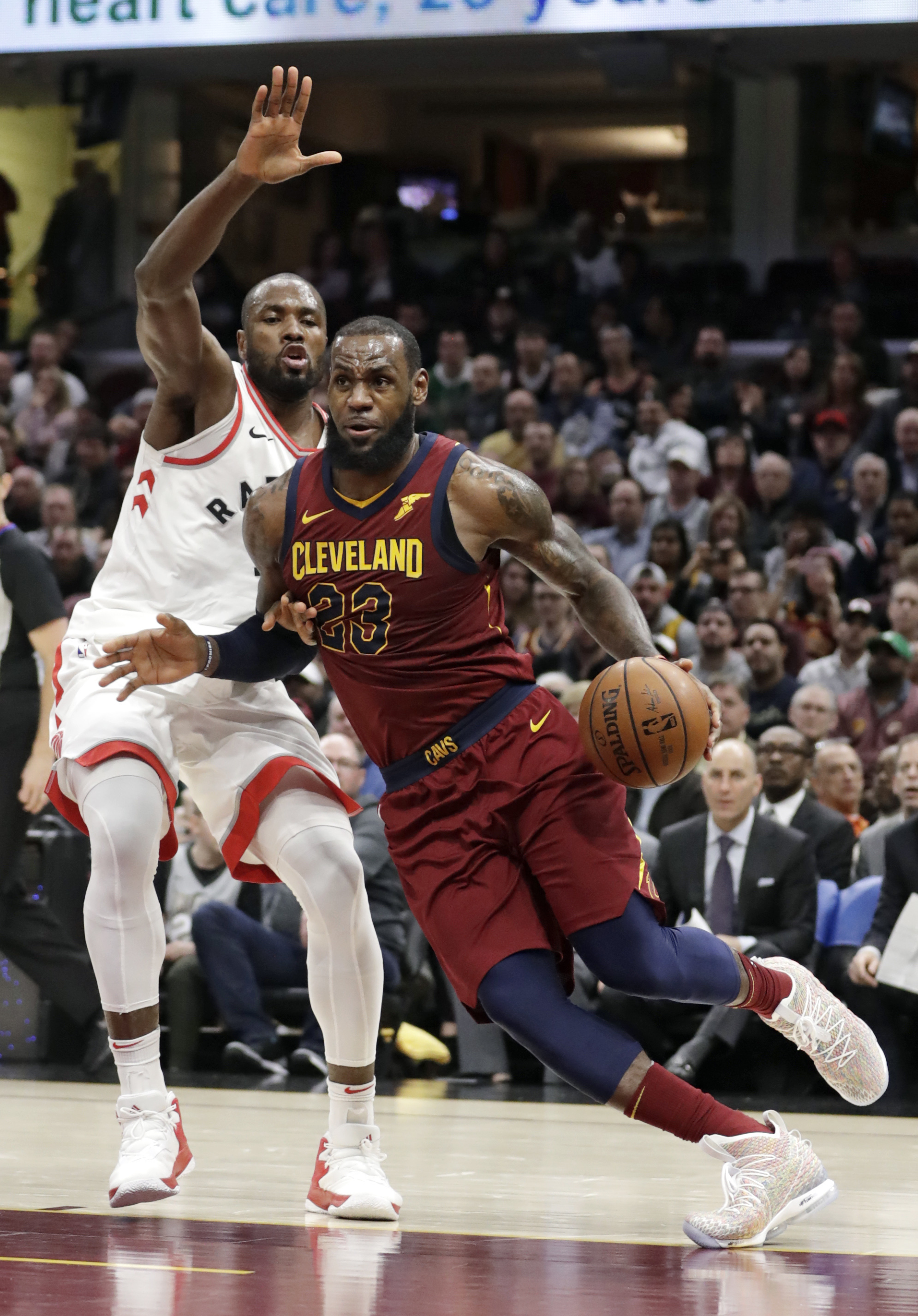 By The Associated Press
CLEVELAND (AP) — LeBron James scored 35 points and added 17 assists, his last setting up a late a 3-pointer by Kevin Love, and the undermanned Cleveland Cavaliers ended Toronto's nine-game road winning streak with a 132-129 victory over the Eastern Conference-leading Raptors on Wednesday night. The Cavs were missing five rotational players and coach Tyronn Lue, who missed his second straight game because of health reasons. But they had James, who earlier in the day said, "I'll be available, so we got a chance."
James didn't have a turnover in 40 minutes and he made three free throws in the final 7.8 seconds. He missed one with 3.9 seconds left, giving Toronto a final shot, but DeMar DeRozan's 3-pointer —
contested by James — was wide left. DeRozan and Toronto coaches complained the All-Star was fouled to no avail.
HORNETS 111, NETS 105
NEW YORK (AP) — Dwight Howard had 32 points and a franchise-record 30 rebounds, becoming the
first player with a 30-30 game against the Nets since Kareem Abdul-Jabbar in 1978. Kemba Walker scored 10 of his 24 points in the fourth quarter for the Hornets, who trailed by as many 23 points in the second half but won in front of an announced crowd of 10,231 at Barclay Center while a
heavy snowfall outside blanketed the New York City area.
Trailing 105-102 with 2:14 left in regulation, the Hornets went on a 9-0 run to pull off the impressive
comeback. Jeremy Lamb, who had 17 points to help end Charlotte's two-game losing streak, made a
layup to cut the deficit to 105-104. The Hornets then called a timeout after a miss by Caris LeVert with 23 seconds left. On the ensuing possession, Walker spun around Quincy Acy and capped a three-point play to put Charlotte up 107-105, the Hornets' first lead of the night since a 16-15 advantage with 5:46 in the opening quarter. D'Angelo Russell scored 19 points and LeVert added 11 for the Nets.
CLIPPERS 127, BUCKS 120
MILWAUKEE (AP) — DeAndre Jordan had 25 points and 22 rebounds to lead Los Angeles past
Milwaukee. Austin Rivers added 22 points and Lou Williams scored 19 for Los Angeles, which bounced back after a deflating loss to Minnesota on Tuesday night. The Bucks lost All-Star forward Giannis Antetokounmpo to a right ankle sprain late in the first half. Antetokounmpo appeared to get hurt when he tripped over teammate Shabazz Muhammad under Milwaukee's basket. He stayed in the game for a brief period, but hobbled around the court while grimacing. He went to the locker room with about four minutes remaining in the second quarter and did not return.
76ERS 119, GRIZZLIES 105
PHILADELPHIA (AP) — Robert Covington, J.J. Redick and Dario Saric each had 15 points to pace all
five Philadelphia starters in double-figures, and the 76ers continued their push for home-court advantage in the playoffs. Joel Embiid added 14 points and Ben Simmons had 13 points, nine assists and seven rebounds for the 76ers (40-30), who won their fourth straight to improve to a season-best 10 games over .500. None of the starters played in the fourth quarter. Wayne Selden Jr. had 18 points to lead Memphis (19-52), which has lost 21 of 22 overall and 16 in a row on the road.
SPURS 98, WIZARDS 90
SAN ANTONIO (AP) — LaMarcus Aldridge had 27 points and nine rebounds, and San Antonio won its
fifth straight game. San Antonio remained in sixth place in the Western Conference, one-half game behind fourth-place Oklahoma City. The Spurs close out a six-game homestand Friday against Utah, which is 11⁄2 games behind San Antonio in eighth place. Bradley Beal and Kelly Oubre Jr. each had 21 points to lead the Wizards, who dropped into sixth in the Eastern Conference.
PELICANS 96, PACERS 92
NEW ORLEANS (AP) — Anthony Davis capped a 28-point, 13-rebound, five-block performance with a
15-foot baseline fade, a gritty put-back and two free throws in the final minute, and New Orleans
outlasted Indiana. E'Twaun Moore scored 23 points for New Orleans, which had to overcome a scrappy defensive effort by Indiana to win its third straight. The Pacers shot only 36.6 percent (34 of 93), but kept the game close with 15 offensive rebounds and 17 second-chance points.
NUGGETS 135, BULLS 102
CHICAGO (AP) — Nikola Jokic had 21 points, seven rebounds and five assists on "Serbian Heritage
Night," and Denver routed Chicago. Denver shot 61.4 percent (51 for 83) from the field and had seven players score in double figures. Paul Millsap had 22 points and eight rebounds in 27 minutes, and Wilson Chandler made five of the Nuggets' 20 3-pointers on his way to 19 points. The Nuggets (39-33) improved to 1-2 on a seven-game trip and pulled within 1 1/2 games of idle Utah for eighth in the Western Conference playoff race.
HEAT 119, KNICKS 98
MIAMI (AP) — Kelly Olynyk scored 22 points and handed out a career-high 10 assists, Tyler Johnson
added 22 points and Miami had little trouble on the way to beating New York. Wayne Ellington scored 16, Justise Winslow added 15, Goran Dragic had 14 and Josh Richardson finished with 12 for the Heat, who remained seventh in the Eastern Conference playoff race. Enes Kanter scored 23 points and grabbed 13 rebounds for the Knicks. Michael Beasley added 22 points on 10 for 15 shooting for New York, and Trey Burke scored 16 off the bench.