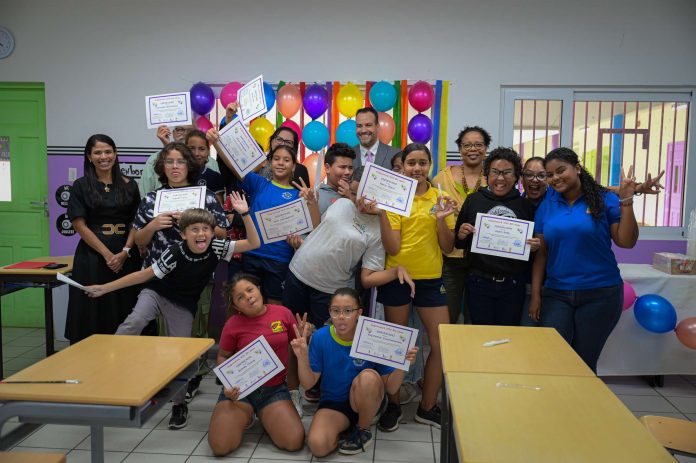 ORANJESTAD – The Minister of Economic Affairs, Communications and Sustainable Development, Geoffrey Wever had the honor of presenting the certificates to the children who participated in and finished the Kid$preneurs program at the Traimerdia, an after school care in Noord.
This time the Kid$preneurs took place at the after school program at the Primary School In Washington.
"Kidspreneur$"Is a project of the section IDEA of the Department of Economic Affairs.
The objective of this program is to encourage children and youth to develop a plan from an idea, and a business from a plan. This way we can teach our kids the knowledge of good practice from a young age. The duty of educating and inspiring our kids is highly important and the minister is happy to see the interest in this group of kids and greens.
"The vision and desire that these kids have shown is admirable," said the Minister. Wether they choose to become business people or not in the future, the hope is that Kid$preneurs helped inspire the youth to chase whatever their dream is and bring it to life. "The bright future of Aruba is in the hands of these kids and teens, and we need to continue to make the effort to support their dreams and inspire them to be the best person they can be, eliminating any barrier they may find in their creativity."
They gain knowledge in starting, managing, and growing a successful business venture.
Minister Wever thanks DEACI and Its unit ODEA for a successful Kidspreneur$ once again.