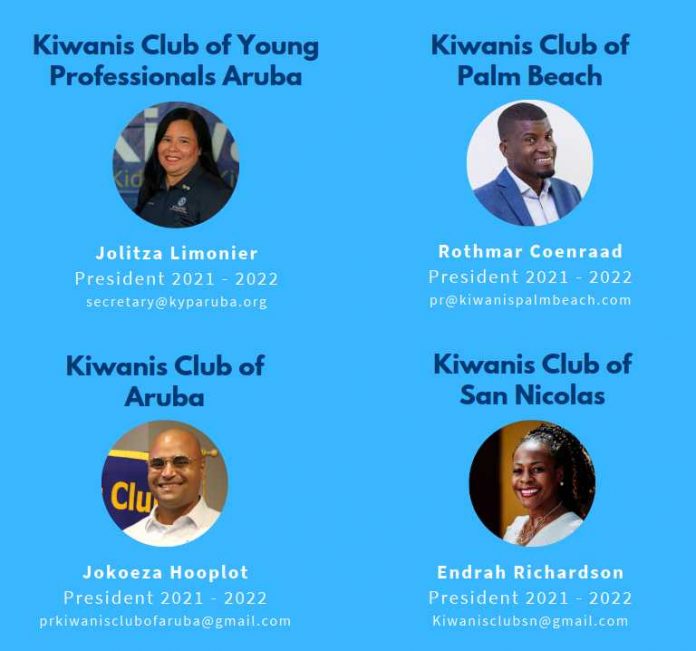 The 4 local Kiwanis clubs have kicked-off the new Kiwanistic year 2021-2022 through a Press Conference & network event held at Balashi Gardens.
As an international organization, Kiwanis Clubs have members who volunteer and are committed to improving the world by making positive lasting differences in the lives of children. Our focus is on serving the kids, and through our projects we create opportunities and provide the support for kids to learn, experience, dream & thrive. Each club president introduced & elaborated on its club's goals, fundraising & community projects, service leadership programs, as well as how anyone can support the children and youth on Aruba.
For 2021-2022 the club presidents are: – Jokoeza Hooplot for Kiwanis Club of Aruba – Rothmar Coenraad for Kiwanis Club of Palm Beach – Jolitza Limonier for Kiwanis Club of Young Professionals Aruba – Endrah Richardson for Kiwanis Club of San Nicolas.
4 clubs, 1 common goal – to enrich every community we serve and every member we engage.
We'd like to thank Balashi & Tropical Bottling Company for the great support & cooperation with regards to our press conference and hereby invite anyone who would like to help, volunteer or support in any way, to contact one of the local clubs through Facebook.
Be pending for our famous "K-One Day" on October 23rd, where globally, all Kiwanis clubs come together to execute a local community project to serve the children in each community.