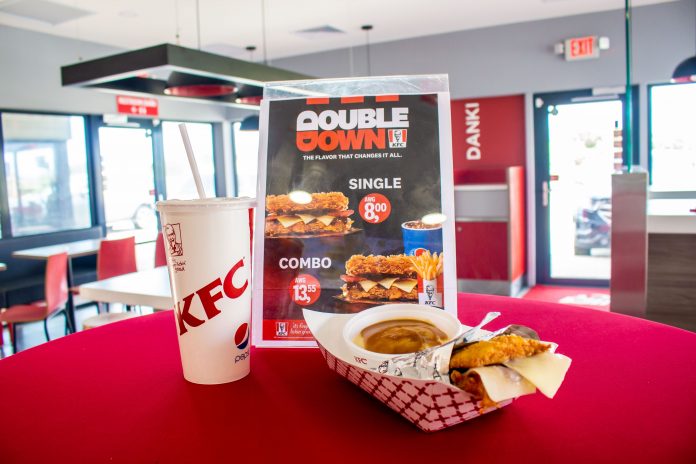 Kentucky Fried Chicken (KFC) launched their newest special this week: a Double Down Sandwich for only 8 Aruban Florins, about 4 and a half USD. The sandwich consists of two pieces of chicken breast, no bread, two slices of Monterey Jack Cheese, bacon and BBQ sauce. There is also the possibility to make it a combo for 13, 50 Aruban Florins (USD 7, 7).
With the combo you get a small French fries portion and a soft drink included. Instead of the French fries you can pick another side: mashed potato, cole slaw, biscuit, corn on the cob or rice. KFC continues renovating their products and extending their menu to offer the community a quality product coming fresh from KFC's kitchen.
During a press conference at the newest location of KFC Aruba in Boulevard, marketing representative Johana Jacobs-Alvarez Blanquicet explained to the local press what this great bang for the buck deal is all about. "The place where you get your favorite chicken, sandwiches, snacks, sweets and sides will now offer you a grab to go sandwich." Aruba has four KFC locations, all ready to welcome you. KFC has delivery service also!
Some History
KFC is an American fast food restaurant chain headquartered in Louisville, Kentucky, that specializes in fried chicken. It is the world's second-largest restaurant chain after McDonald's, with 22,621 locations globally in 136 countries as of December 2018. Whether you call it KFC or Kentucky Fried Chicken, the restaurant that made founder Colonel Sanders a household name is one of the world's biggest and most successful fast food chains. The blend of 11 herbs and spices that went into Sanders' original fried chicken recipe is still in use today, and its components remain a mystery, even though many have tried to decipher it (some claim to have reverse-engineered the recipe, while writer William Poundstone famously asserted that it's only flour, salt, pepper, and MSG). A Sanders-signed copy of the recipe is inside a vault in KFC's Louisville headquarters, and even the manufacturers don't know what goes into it: Half of the mix is made by Griffith Laboratories, and then it's sent to McCormick, where the rest is added.
For more information: Facebook KFC Aruba. q
Na e localidad di mas nobo di KFC, esta na Boulevard a wordo introduci e Double Down Sandwich.
Complace cada persona den famia.
Comunidad completo ta wordo invita pa pasa un di e 5 localidad di KFC y disfruta di e Double Down of cualkier di e otro productonan di KFC. Nan ta situa na San Nicolas, Santa Cruz, Palm Beach, Oranjestad y Boulevard. Tur tin Drive Thru.
Pa mas informacion por bishita KFC su Facebook KFCAruba of instagram.
No lubida awor tambe nan tin Delivery y por wordo bestel for di nan Facebook mes door di click na Shop Now
KFC it's finger lickin' good