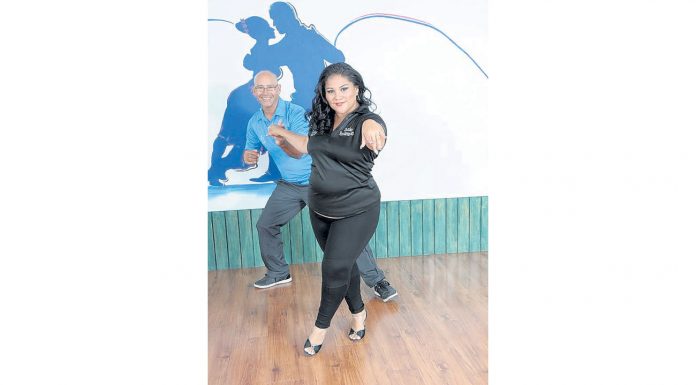 Janice Boekhoudt Kock isn't unknown in the world of dancing and entertainment in Aruba. Janice, together with her husband Oslin Boekhoudt started the first salsa dance school in Aruba, Pachanga. During an interview with our reporter, Janice told us about her career as a dancer, how she started and what inspired the couple to start their dance school Pachanga.
Janice says that she started dancing from a young age, because her mom, Mrs. Ceslin Yarzagaray and her father Mr. Franklin Kock had a dance group called Danza Aruba, and ever since she was young, she danced with the group, participating and shows and presentations in different venues.
Later she met her now-husband, Oslin Boekhoudt, and the moment they started the dance school Pachanga together was in the year 2000. In the beginning, Janice explains, Simadansa approached her husband Oslin for him to start giving salsa lessons, and Janice began helping him with this.
"I always danced, my parents danced, so I was brought up in the world of dance. I didn't know anything else. And when I met my husband, that he had the same passion for dance, that's how we started the dance school Pachanga", Janice says.
The reason why Janice and Oslin started with the dance school Pachanga in Aruba was because there was a big demand for salsa lessons. "We would go to dance at certain places, and as soon as they played salsa, most people would leave the dance floor and there wasn't anyone dancing. So we realized, the will and interest was there, and that's how we started", she said.
Janice emphasizes that although naturally there were different schools of dance, these were focused a lot more on folkloric dance and classical dance like ballet, and very few had actual Latin dance. She explains also that Oslin was a dance instructor in the Netherlands for many years before, and he also saw the possibility to open the dance school. And that's how finally they came to the decision to open Pachanga in the year 2000.
Janice and Oslin have represented Aruba in various countries abroad, for example in Suriname, the Netherlands, Curaçao and Venezuela, for dance competitions, to give dance workshops, or doing shows. In 2002, the couple won the main title of World Champions of Salsa, and in 2004 they competed in Curaçao and manage to win the main title one more time.
"We always see the possibility to promote the name of Aruba, to promote the name of Pachanga, so that the world knows that the people of Aruba can also dance", Janice says.
She told us she enjoys dancing anything, and she dominates all types of dance, and wherever she and Oslin go, they can represent the island. "I like salsa, bachata, kizomba, zouk, samba, merengue… so I love all types of dance, because in this way I can represent myself and I can represent Aruba."
Last year, Janice was studying, and through her studies and because of the situation with the Covid pandemic, she had less available time and the dance school was not operating as often as before. But she said they were still offering private lessons for those who wish to learn to dance salsa 'with swing and flavor', and for anyone who is interested in learning to dance any style of Latin dance.
"Mi wish is to finish my studies to start doing shows again, to get on stage again, and maybe that I can start the dance school like it used to be before", she said.