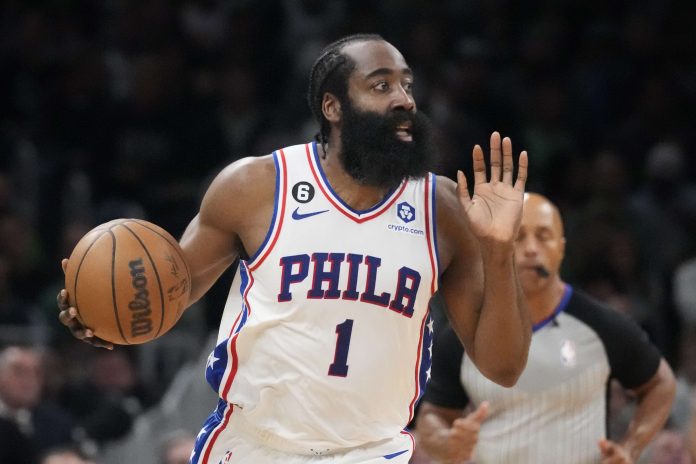 By Pat Graham
Associated Press
FORT COLLINS, Colo. (AP) — James Harden returned to the Philadelphia 76ers on Wednesday, as the disgruntled guard who had been seeking a trade instead joined his teammates as an active participant at training camp.
The 10-time All-Star arrived on the Colorado State campus for practice in spite of a fractured relationship with the Sixers' front office. He skipped the team's media day in New Jersey on Monday and the first day of camp in Colorado on Tuesday.
Harden in June picked up his $35.6 million contract option for this season with the belief the team would try to trade him. He blasted team president Daryl Morey at a promotional event in China when no trade materialized, calling Morey a liar.
The 76ers are conducting workouts this week at Moby Arena, which is the home of the Rams' basketball team. The Sixers are venturing out in the area, too. Joel Embiid and teammates recently made a trip to nearby Boulder for dinner and a chat session with Colorado Buffaloes football coach and NFL Hall of Famer Deion Sanders.
Sanders discussed topics such as pressure, unity, being in the moment and what it's like to go from a historically Black college or university in Jackson State to a struggling program at Colorado that was coming off a 1-11 season. The Buffaloes (3-2) remain the talk of college football.
David Adelman, one of the Sixers' owners, said before the meal that new coach Nick Nurse requested the Colorado excursion to squeeze in some training at elevation. The Nuggets won their first NBA title in franchise history by beating Miami in five games last June.
"The road to a championship for the NBA goes through Denver," Adelman said shortly after the team met Sanders. "We're going to get used to it because you'll see us here in June."
Nurse is taking over for Doc Rivers, who never led the Sixers past the second round of the playoffs.
The team returns the reigning NBA MVP in Embiid. To bolster its roster, Philly added guard Patrick Beverley and center Mo Bamba. The team also brought in veteran Danny Green.
"You added some pieces. And you add some pieces that you feel should be the difference," Sanders said to the Sixers at dinner. "Straight up, you guys really look at each other and hold each other accountable and you have to realize, how bad do you really want it? What are you willing to do for it? What are you willing to sacrifice for it, and how far are you willing to go for it? How hard are you willing to work for it?
"You all are among the best in the business, right? But you've got to put it together."