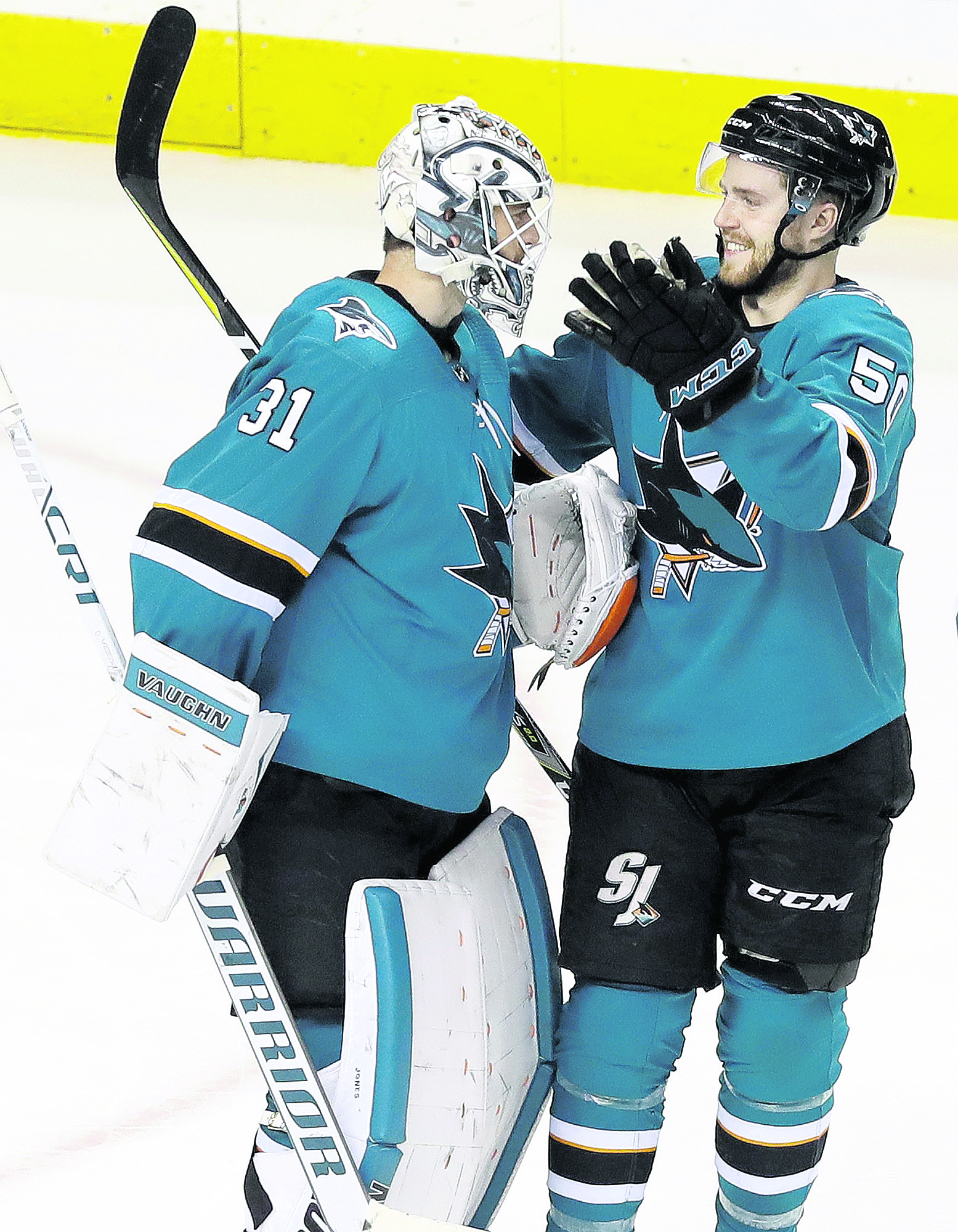 By JOSH DUBOW 
AP Sports Writer

SAN JOSE, Calif. (AP) — Marcus Sorensen and Joonas Donskoi delivered the fast start San Jose coach Peter DeBoer wanted and Martin Jones did the rest to help the Sharks tie their playoff series with Vegas at two games apiece. Sorensen and Donskoi scored in the first period and Jones made 34 saves for his sixth career postseason shutout as the Sharks bounced back from an overtime loss to beat the Golden Knights 4-0 in Game 4 on Wednesday night. "We'd been chasing the game the whole series," DeBoer said.
"We talked about it, but it's easier said than done. I think we've had chances in the last two games to get out in front, but (Marc-Andre) Fleury has I think been exceptional, especially early in games, in order to keep us off the board. It's nice that we've stuck with it, and hopefully we see some cracks." Tomas Hertl added his team-leading fifth goal of the playoffs and Joe Pavelski scored a power-play goal in the third to set up a best-of-three for a spot in the Western Conference Final. Game 5 is Friday night in Las Vegas. Fleury made 30 saves and Vegas failed to convert on all five power-play chances while losing for the second time in eight games this postseason.
"They were a little more competitive than we were tonight," Golden Knights coach Gerard Gallant said. "We didn't play a bad game, but we didn't play well enough to win and they did, and they really did. I think we played well enough to win all of the first three, but tonight? No." Jones was a big reason for that, starting with a key save early against Reilly Smith. Jones was helped on a delayed penalty when Brent Burns cleared a puck off the goal line and when James Neal hit the post on a power play in the first period. But the San Jose goalie also delivered some big-time saves, including back-to-back stops against William Karlsson and Jonathan Marchessault on a Vegas power play in the final minute of the second. Jones then turned aside Smith on a power play in the third.
Jones tied Evgeni Nabokov's team record for most saves in a playoff shutout, and the Sharks have turned things around following a 7-0 loss in the opener. "I thought we probably managed the puck a little bit better for the whole game," Jones said. "We won battles on the boards, we got pucks out when we needed to and we got pucks in when we needed to. That was big for us tonight." Hertl helped give Jones a cushion with his goal early in the second. Logan Couture won an offensive zone faceoff against Erik Haula, and Mikkel Boedker took the puck behind the net for a wraparound attempt. Hertl was in front and knocked in the loose puck to make it 3-0.
Pavelski's goal on the rebound of Couture's shot sealed the game midway through the third.
The Sharks made some changes from Game 3, with defenseman Joakim Ryan returning to the lineup for the first time since March 16 in place of Paul Martin, and Donskoi getting back in after missing the previous game with a lower-body injury. After an early giveaway led to a scoring chance for Vegas, Ryan fared well and stripped William Carrier of the puck to thwart a chance for the Golden Knights. San Jose then scored twice in the final five minutes of the first period. Sorensen struck first, using a pick from linemate Eric Fehr to get loose from the corner and then skate around two defenseman to beat Fleury with his fourth goal of the playoffs.
The Sharks added to the lead with 5.1 seconds to go when Donskoi skated from his own zone and beat Fleury with a wrist shot from the high slot. "At the start of the game they actually had some better looks than we did. I think they came out hard and better than we did and then Marcus scored and Joonas' goal was big as well," Couture said. "The 2-0 goal was a massive goal heading into the first intermission." Vegas was never able to recover from that early deficit. "We got caught a little bit sleeping in the first period and they took advantage," Marchessault said.