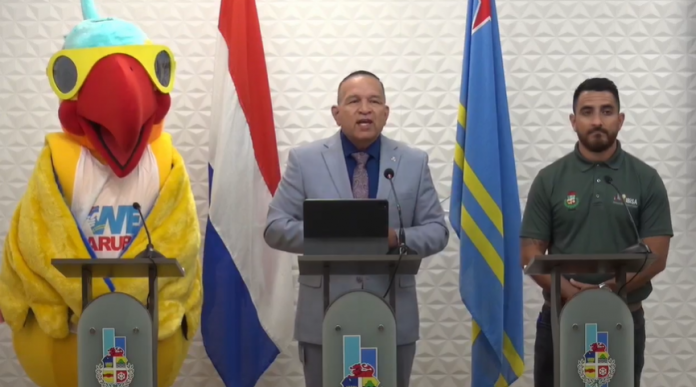 (Oranjestad)—The Minister of Sports and Education, Endy Croes, held a press conference Thursday morning in anticipation for the grand opening of the Scholar Games 2023, which took place Friday afternoon at the Frans Figaroa Stadium.
For this grand opening, the minister indicated that there will be 1000 students from 45 schools—12 kindergartens, 23 primary schools and 10 secondary schools—that will be participating in the Scholar Games 2023. There are seven different disciplines that will be featured, namely basketball, soccer, volleyball, beach tennis, badminton, functional fitness and culture dancing.
William Erasmus from the IBISA department for sports explained that the program for this year's scholar games has begun since the beginning of the school year 2022-2023. There were some games throughout the past year that have taken place, and now is the time for all final games to take place.
Erasmus indicated that there will be different prizes, including a cash prize, the title of MVP for each discipline, School of the Year award and the teachers will be given a certificate for their involvement in preparing the students.
During the conference, Minister Croes gave a brief explanation of the back story of the Scholar Games Mascot Wiwi. The mascot's story highlights the importance of playing sports and being active, along with a healthy diet, which is a point that both the Minister and IBISA often focuses on with children from Aruba.
In terms of the official opening that took place yesterday, the minister mentioned that the official march would begin at 6:30 in the afternoon and this included a cultural showcase choreographed by Mariol Peña, where 80 students presented their acts and. The grand opening also began with a protocol act.
This protocol act involved lighting the Olympic torch, which will stay in the stadium for two whole weeks. At the end of grand opening act, the games began with the first kick of a soccer ball, kicking off the first game in the event—soccer.
Finally, Minister Croes invited the Aruban community to take part in this event and support the children and schools of Aruba.