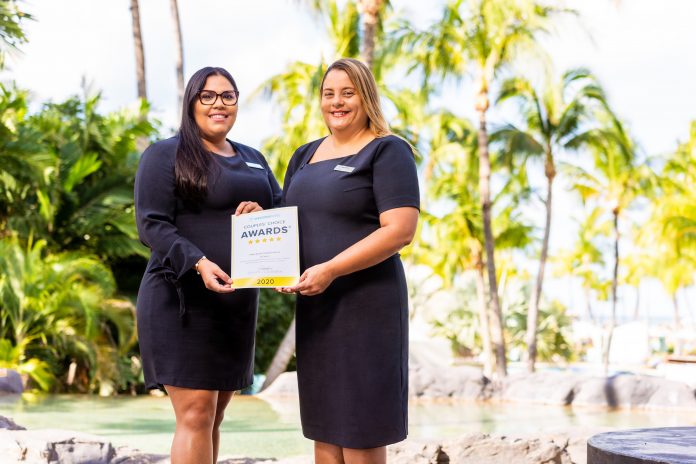 Hilton Aruba Caribbean Resort & Casino was announced winner of the 2020 WeddingWire Couples' Choice Awards®, an accolade earned annually by the top wedding professionals across the board in quality, service, responsiveness, and professionalism, as reviewed by couples on WeddingWire.
Two much-appreciated resort Team Members were presented with the honor, Lisa Dammerman & Nayla Geerman, for the third consecutive year. They received the award outshining many other wedding industry professionals in 14 countries, including the US, Canada, Spain, Italy, France, Mexico, Brazil and India.
Both Lisa and Nayla, regularly make all the difference for couples about to tie the knot in the tropics. Their specialty? Stress reduction, by dealing with vendors and navigating the decor and catering fields effortlessly to produce seamless, true dream functions in Aruba, at the Hilton Aruba Caribbean Resort & Casino.
A leader in the global wedding planning industry, WeddingWire continues its celebration of local wedding vendors with the announcement of its twelfth annual WeddingWire Couples' Choice Awards® winners.
To determine these winning wedding professionals, WeddingWire analyzed reviews across more than 20 service categories, from venues and caterers to florists and photographers to find the most highly rated vendors of the year. The winners exhibit superior qualities when interacting with the millions of consumers who turn to WeddingWire to help ease their wedding planning process, each month.
Wedding professionals who win WeddingWire Couples' Choice Awards® are members of WeddingPro, the leading B2B wedding brand. It is the largest marketplace and community for wedding professionals with more than 13 million visitors who are planning weddings on WeddingWire and The Knot, every month.
Hilton Aruba Caribbean Resort & Casino is honored to count the top trusted wedding professionals on its team, helping couples pull their special day off, in their own personalized style.
For more information about Hilton Aruba Caribbean Resort & Casino, please visit WeddingWire. To learn more about the WeddingWire Couples' Choice Awards®, please visit www.weddingwire.com/couples-choiceawards.