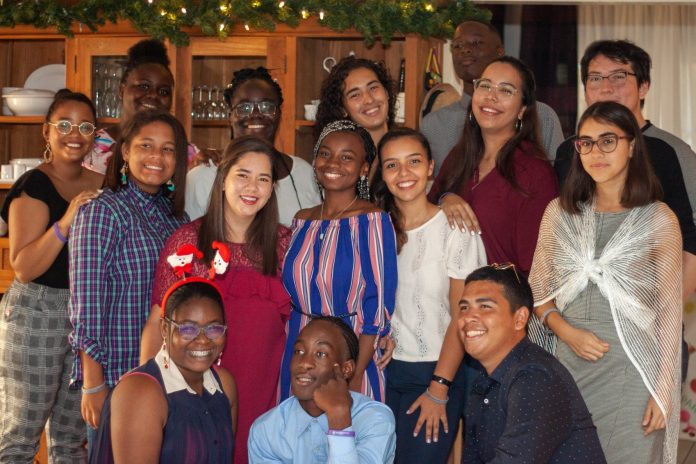 Heart-Centered Leadership Foundation launched its youth club HC Youth Leaders at the end of 2019. HC Youth Leaders was officially launched with the installation of its first board and youth members. 
Heart-Centered Leadership Foundation launched in 2008 with the mission of inspiring and empowering the youth of Aruba to unleash their full potential. The youth club's purpose is to be a sounding board for the foundation when it comes to youth-related topics, while also directly working on the foundation's mission. HC Youth Leaders' activities focus on the principle of being 'for the youth by the youth'. The 3 main activities are HC Bon (HC Good), which promotes volunteer work; HC Consciente (HC Awareness) which centers on activities that raise awareness on different topics; HC Hunto (HC Together) which are moments where the club comes together and brainstorms on projects they want to implement in their community. The HC in the activity titles is a reference to the HC Youth Leader name, but is also a play on the Papiamento word 'hasi' which means 'to do'.
The first board of HC Youth Leaders consists of five members: President of the board Haddasah Lamarre, Secretary Xaui Thijsen, Treasurer Nathan Tromp, and members of the board Keilah Geerman and Uchenna Eugene. These five young people have been volunteers with Heart-Centered Leadership Foundation for years, where they started off as participants in seminars the foundation offers and then continued on as volunteers assisting in different trainings, workshops, seminars and activities for the youth organized by the foundation. HC Youth Leaders currently has 10 members between the ages of 15 – 20.
Since the youth club's launch, HC Youth Leaders have been actively busy with monthly general meetings, deliberating and planning their calendar of activities for 2020. Furthermore, Members have received a workshop on what is a 'heart-centered leader', where they learned more about different leadership styles and the importance of being a heart-centered leader in our community. This past weekend, in commemoration of International Women's Day, the members realized their first HC Consciente activity when they handed out hand-made cards with positive messages in the Paseo Herencia area to empower and inspire women on their day.
Follow HC Youth Leaders on their Facebook page Heart-Centered Youth Leaders and on their Instagram hcyouthleaders.aruba to keep up with all that the club is doing for the Aruban community.