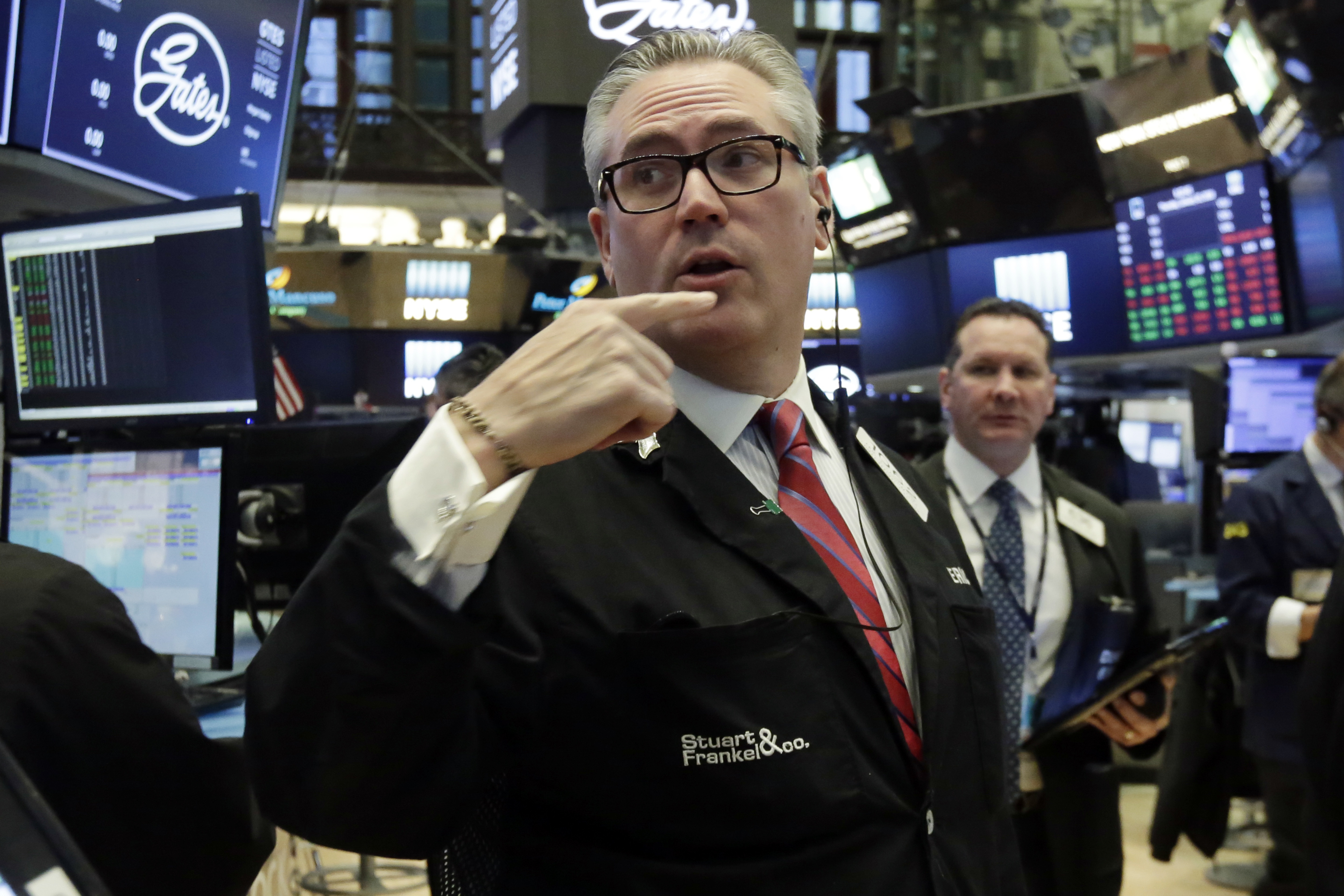 By MARLEY JAY
AP Markets Writer
NEW YORK (AP) — U.S. stocks powered to their biggest gain in almost nine months Friday as drugmakers and technology companies surged. Investors were cheered that President Donald Trump appeared to take a more positive tone on international trade.
AbbVie boosted biotechnology companies with a strong fourth quarter and a greater annual profit forecast, while Pfizer and other drugmakers also made big gains. Intel had its best day in almost nine years after its fourth-quarter results reassured investors that security flaws recently discovered in its processors aren't damaging its sales. Wynn Resorts tumbled following numerous allegations of sexual assault and harassment by Steve Wynn, the casino operator's chairman, CEO and biggest shareholder.
Speaking at the World Economic Forum in Davos, President Donald Trump said Friday that leaders should prioritize their own countries, but that his administration isn't opposed to international cooperation and that continued growth for the U.S. economy is good for the rest of the world.
"He did talk about making sure trade deals are fair, but I just thought it was a completely different tone today," said JJ Kinahan, chief investment strategist for TD Ameritrade. "I think the market really took a lot of positives away from that."
On Wednesday and Thursday, comments from Trump as well as Treasury Secretary Steven Mnuchin and Commerce Secretary Wilbur Ross contributed to swings in stock prices and the dollar as investors tried to parse the remarks for indications of administration's stances on the dollar and international trade.
The Commerce Department said the U.S. economy grew 2.6 percent in the fourth quarter. That was a bit less than analysts predicted but still a solid result, as Americans continued to shop and home construction increased. The economy grew 2.3 percent in 2017 and experts think growth will speed up this year, partly because of the tax cut package signed into law in December.
The Standard & Poor's 500 index climbed 33.62 points, or 1.2 percent, to 2,872.87, its biggest gain since March 1. The Dow Jones industrial average added 223.92 points, or 0.8 percent, to 26,616.71. The Nasdaq composite rose 94.61 points, or 1.3 percent, to 7,505.77. The Russell 2000 index of smaller-company stocks gained 6.39 points, or 0.4 percent, to 1,608.06. Already at record highs, the S&P 500 is up 7.5 percent in January and on track for its largest monthly increase since October 2015.
Technology and industrial companies made hefty gains, as did Amazon and other retailers, and banks rose along with interest rates. Those companies tend to benefit from more global trade and faster economic growth. Many of them are helped by a weaker dollar, and the U.S. currency declined again Friday. The weaker dollar raises costs for more U.S.-focused companies such as those in the Russell 2000, which lagged other indexes Friday.
Intel said its data center business did well in the fourth quarter and the "Meltdown" and "Spectre" security flaws aren't affecting its sales. It forecast $65 billion in revenue this year, more than analysts expected. The stock added $4.78, or 10.6 percent, to $50.08, its biggest gain since March 2009. Technology companies have led the market's big gains since the start of 2017, and that will be put to the test next week as a slew of major companies including Apple, Microsoft, Facebook and Google's parent company Alphabet all report their quarterly results.
AbbVie posted greater sales of key drugs including Humira, an inflammatory disease treatment that is the world's biggest-selling drug by revenue, and its hepatitis C treatments. AbbVie also raised its profit forecast for 2018. The stock jumped $14.91, or 13.8 percent, to $123.21. Pfizer rose on reports that it's getting closer to a deal to sell its consumer health care business, a possibility Pfizer raised in October. It stock gained $1.78, or 5.3 percent, to $39.01.
Wynn Resorts stock plunged $20.31, or 10.1 percent, to $180.29 after the Wall Street Journal reported on dozens of allegations against Wynn, who denied any wrongdoing. Starbucks skidded $2.56, or 4.2 percent, to $57.99 after it posted weaker growth than investors had hoped. Analysts were unhappy with its results outside the U.S., and Starbucks also sales of holiday merchandise were slow.
The dollar declined further against other currencies. It fell to 108.66 yen from 109.41 yen. The euro rose to $1.2423 from $1.2391. The ICE US dollar index is at three-year lows and has declined for six consecutive weeks. Bond prices fell. The yield on the 10-year Treasury note rose to 2.66 percent, matching its highest level in more than three years. It finished at 2.62 percent Thursday.
After it reached an 18-month high Thursday, gold fell $10.80 to $1,352.10 an ounce. Silver dropped 17 cents, or 1 percent, to $17.44 an ounce. Copper slipped 2 cents to $3.20 a pound. Benchmark U.S. crude rose 63 cents, or 1 percent, to $66.14 a barrel in New York. Brent crude, used to price international oils, added 10 cents to $70.52 per barrel in London.
Wholesale gasoline picked up 2 cents to $1.94 a gallon. Heating oil rose 2 cents to $2.14 a gallon. Natural gas rose 9 cents, or 2.5 percent, to $3.53 per 1,000 cubic feet. The CAC 40 in France jumped 0.9 percent while the German DAX gained 0.3 percent. The FTSE 100 in Britain rose 0.7 percent. Japan's Nikkei 225 slipped 0.2 percent and South Korea's Kospi rose 0.5 percent. Hong Kong's Hang Seng index jumped 1.5 percent.