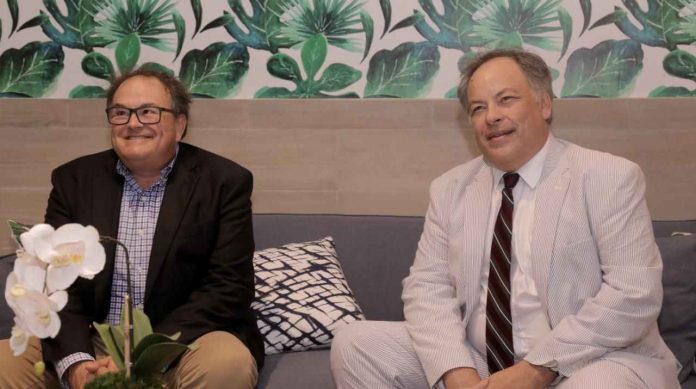 By Clyde Harms
PERING (Perret Ingenieros de Caracas), the Venezuelan company managed by the brothers Irwin and Alberto Perret-Gentil, is celebrating its 70th anniversary. PERING has been operating in Aruba for over two decades. It developed Oceania I & II, Blue Residences and Azure Residences at Eagle Beach, and currently is finishing Harbour House in Oranjestad.
As Honorary President and Treasurer of the Nuevo Mundo Foundation, an organization that has benefitted greatly from the many contributions that PERING has made to Aruba, I would like to use this occasion to thank them for all that the company has done for us and for different facets of the Aruban community.
Cultural
In addition to contributing personnel and other resources to help Nuevo Mundo Foundation to raise funds to cover its expenses, the Perret-Gentil brothers have supported the Aruba Symphony Festival generously with monetary donations and by providing FREE lodging for many masters and guest artists with their families during all five festivals. Indeed, had it not been for the generous support of the Perret-Gentil brothers, we would not have been able to present one festival.
Economic
PERING's investments here run in the millions of dollars. There is no doubt that the almost 500 Condos that PERING has constructed in Aruba have contributed enormously to the growth of tourism and the economy of our island. Using local contractors for its projects, PERING created hundreds of jobs during the construction of the properties and other hundreds to operate and maintain them.
The Harbour House project at Weststraat, across the quay where the cruise ships dock, will eventually result in the restoration of a section of Oranjestad that is very important for the cruise ship tourism. It will also help to realize the government's goal of stimulating more activity in the center of Oranjestad. The local fishermen also will benefit greatly of the renovation, restoration and additions that are being made in that area under the strict supervision of the Aruba Ports Authority.
Social facet
Together with other Venezuelan investors in Aruba, the brothers Perret-Gentil founded PANA 9Pa Amor di Nos Aruba. In Venezuela the word "pana" is used to denote a friend, and PANA has been a very good friend to our community. It organized and financed the "Street Sinterklaas" program to distribute gifts to needy Aruban children. PANA donated school material to the Cayena Kleuterschool (Kindergarten) and another school in San Nicolas. This year PANA contributed generously to the Heroes Program to support those who are on the forefront of the fight against the pandemic Covid-19. Last year the Perret-Gentil brothers financed the publication of the book "An Aruban in Libya" that is sold to raise funds for the Koningin Wilhelmina Fonds, the Aruban equivalent of the American Cancer Society.
Congratulations Perret Ingenieros de Caracas, with your 70th anniversary. Congratulations, Alberto and Irwin, and many thanks for all that you have done for our beloved Aruba.