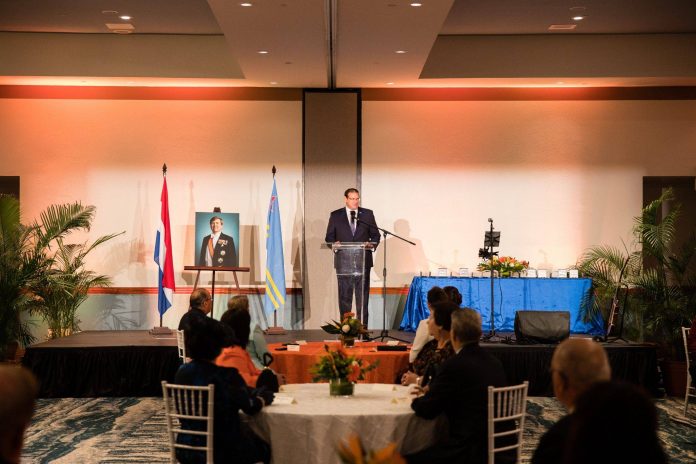 During the annual ribbon rain last Friday July 3rd, Governor of Aruba, His Excellency Alfonso Boekhoudt, awarded a Royal honor to 17 Arubans in the Order of the Dutch Lion and in the Order of Orange-Nassau on the occasion of the celebration of His Majesty de Koning.
Traditionally this ceremony takes place one day before King's Day which is on April 27, but due to the COVID-19 crisis the ribbon rain ceremony was postponed to July 3rd. The following people have been awarded Knight in the Order of Orange-Nassau: Jacob Bult, Peter Paul Michael Theodoor Hermans, Imy Josephine Cecile Heinze-Lasten, Alexander Maarten Nieuwmeyer, Olga Josefina Buckley en Jan Willem van Nes.
The following persons have been awarded Member of the Order of Orange-Nassau: Sebastian Israel Falcon, Elizabeth Phillis Craigg, Reuben Laurence Craigg, Maria Louisa Croes, Rolando Juan Croes, Edwardo Fernando de Graf, Jacobo Dominico Henriquez, Swinda Anastacia Thiel, Elba Lucilda Hirschfeld-Smith, George Jozef Geerman and José Bernardino Andrade do Salâo.
The Order of Orange-Nassau is a civil and military Dutch order of chivalry founded on 4 April 1892 by the Queen regent Emma, acting on behalf of her under-age daughter Queen Wilhelmina. The order is a chivalric order open to "everyone who has earned special merits for society".