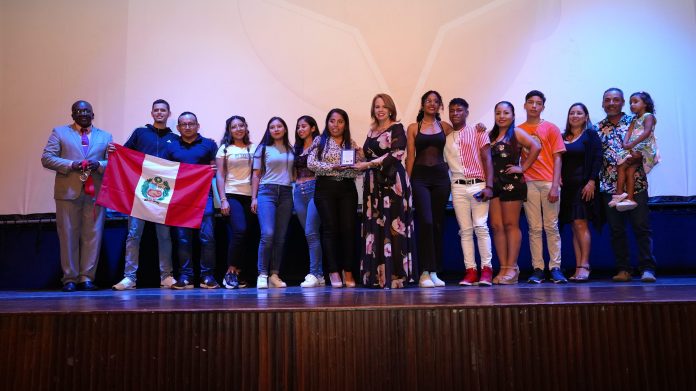 Recently, Prime Minister Evelyn Wever-Croes was present at a ceremony at the Cas di Cultura, during which all folkloric and cultural groups that participated in the two multicultural encounters in the past years were recognized. The encounters emphasize the importance of dialogue and celebration of multicultural diversity.
Aside from this, for this occasion a moment was dedicated to commemorate Dia de la Raza (Race Day).
Among those present for this occasion were representatives from UNESCO, Consular Body, director of the Department of Culture of Aruba drs. Siegfried Dumfries, staff and personnel from this department, folklore and culture groups from each participating country.
Wever-Croes represented the minister of Culture, Xiomara Maduro since she was abroad and could not be present. But in her name, Wever-Croes thanked and honored all participants and recognized the contribution and support that each has given to the cultural dimension of our country. This recognition comes from the Minister of Culture together with the Department of Culture of Aruba. With this gesture, thanks is given to their dedication and praise to their good work made to realize the first and second edition of Multicultural Encounter Aruba which took place on the 21st of may in 2021 and 2022. The multicultural encounter is related to the celebration of the World Day of Cultural Diversity for Dialogue and Development declared by UNESCO.
The trajectory behind this initiative goes back to 2005. From its beginnings until now, the project continued growing and developing on a national cultural platform where participation of different groups, organizations and individuals can be facilitated and encouraged. The platform has the goal of inspiring and promoting cultural exchange through various artistic expressions like theatre, poetry, music, folkloring dance and visual art. In 2021, in the middle of the pandemic, for the first time the multicultural encounter was combined with the celebration of the World Day of Cultural Diversity for Dialogue and Development. Symbolically, this shows that despite all challenges, together we are strong.
Premier Wever-Croes shared the words of Mr. Hubert (Lio) Booi, one of the co-authors of our national anthem: "Make the Aruban aware of his culture and teach him to know the culture of another." Through participation, inclusion and respectful dialogue we can reach understanding.