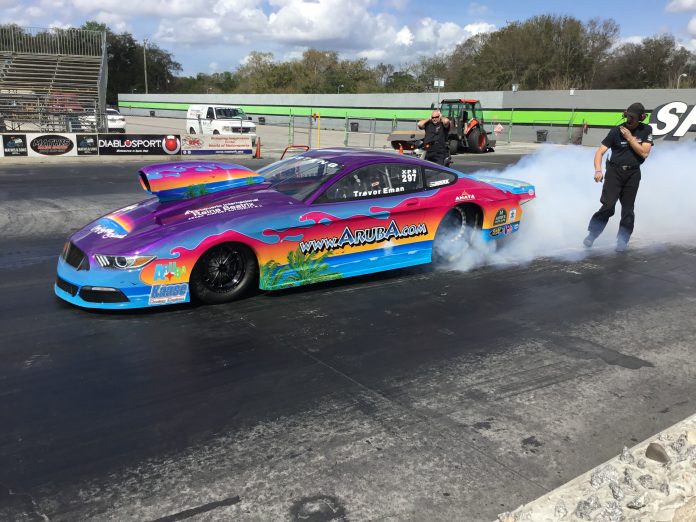 Team Aruba is back stateside after enjoying the off season back home in their island paradise, the One Happy Island. They readied the Aruba.com Mustang at their shop in Union, S.C, then made the trek to Florida for a two day test session.
The team will pursue the 2020 NHRA Mountain Motor Pro Stock schedule, which includes Charlotte, Richmond, Chicago, Denver, Brainerd and St. Louis. The Four-Wide Nationals will kick off their 2020 tour, April 24-26.
"We've thoroughly enjoyed racing with NHRA, so we're excited to expand our schedule there this year and grow our fan base," began Ven Eman, team owner. "Racing with NHRA provides us with more opportunities to promote our sponsors and our island. We're able to take our brand into new markets and run before a larger audience. It's an exciting time for Mountain Motor Pro Stock and our team."
About Team Aruba
TEAM ARUBA (www.TeamAruba.com), probably the best Pro Stock team to ever come out of the Caribbean, (but certainly the most popular and creative), is advertising one of the most popular tourist destinations in the world, Aruba. TEAM ARUBA's roots come from The Brute Racing on the island paradise of Aruba. The Brute Racing Organization was founded in 1986 while building their first racecar, called "The Brute", a 1979 FORD Fairmont, powered by a 460 cobra jet twin turbo motor. During its debut, this racecar, driven by André Loonstra became the island's champion in the Super Gas Category. That same year The Brute participated in the Snowbird Nationals which was a 3-weekend event.
Follow Team Aruba on Facebook and Twitter. Find race results, team updates, videos and photos. Also leave your comments to cheer on Team Aruba!