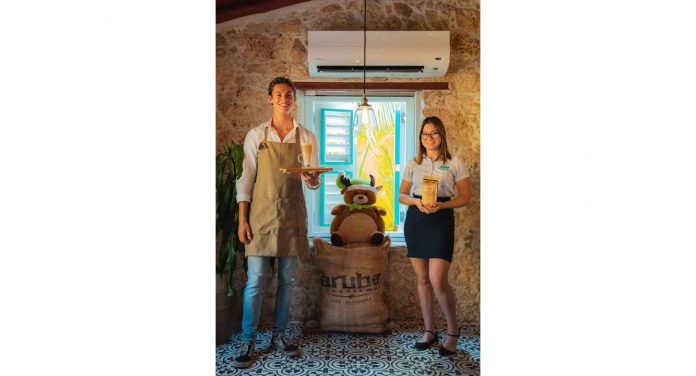 Aruba Experience Café & Patisserie is a place you really should not miss during your stay on Aruba. First reason: housed in a traditional, old-fashioned Aruban construction style cunucu house (aka farm house) from the mid 19-th century beautifully renovated by owner Susan. Second reason: best coffee, best croissants, best ambiance and the friendliest student servers. It is simply a place that gives energy and boosts your day!
It is easy to get there. The café is located on a main road in Oranjestad and has its own parking. The yellow cunucu house captures your attention and you are being welcomed with a happy smile. The big dilemma is where to sit _the different rooms all have an amazing design and energy. Inside the original beams in the ceiling were preserved and the floor has typical Caribbean-style tiles. The walls proudly present their sand-colored heavy bricks as if they want to say: this is a house of culture, we have been here a while and we are here to stay. This house is cultural heritage that was restored but unchanged. It maintains its architectural integrity, built over 150 years ago, a true celebration of the past!
Outside owner Susan and her team have created a wonderful patio filled with bright colors and surrounded by the yellow walls of the building. Everything breathes culture, history, story-telling and jolliness. This place was blessed by the Godfather of Aruban culture, Padu Lampe during its grand opening on May 25th, 2018.
The kitchen is run by a chef, who is a bodybuilder thus assuring you that he knows about portions as well as healthy food. All sauces are plant based, and all the food at Experience Aruba is either baked or grilled, nothing is fried.
The menu, Namaste
The menu names are all mantras that stimulate a positive outlook towards the world, how nice is that! There are a dozen coffee choices on the list from cappuccino to Red eye and yes, Experience Aruba serve their own brand coffee. This is also for sale which makes a fantastic souvenir for the folks at home or for yourself to remember your trip when sipping the cup of joe at home. There are fresh juices, Frozen Lemon Dreams and Specialty Drinks like fresh Ginger/Mint Tea are your choices. Pick from an extensive list of smoothies with the names of `I Am Amazing,' or `I Am Harmony' and more. You are caught somewhere between smile and wonder. The breakfast offers pancakes, waffles and sandwiches again with aspiring names like `I Am the Future' (kids menu). There are fresh arepas, wraps, salads, bowls and a yummy selection of home baked croissants. Their Sweets are undeniable delicious, the brownie makes you want to stay and never leave.
Thought has been put to every detail and the way this establishment is run is by supporting youngsters, honoring cultural heritage and motivating your spirit. Earlier I said, "should go," but I will correct myself and say, "must-go"
Experience Aruba Experience!
"Restored here you are, representing the past, letting the present enjoy your time. Visually narrating the effort put in each natural stone that made a wall for the purpose of sheltering families. The present and the future admire you. Thank you for allowing me to take care of you. Today, you are an Aruba Experience & for me a lovely kind of memorabilia." ~ Susan la Bella, owner.
Aruba Experience café and patisserie
John. G. Emanstraat 37
Email: info@arubaexperience.com
Facebook: Aruba Experience café and patisserie
Telephone: +297 699 8878
Open Mon-Sat 8AM – 3PM