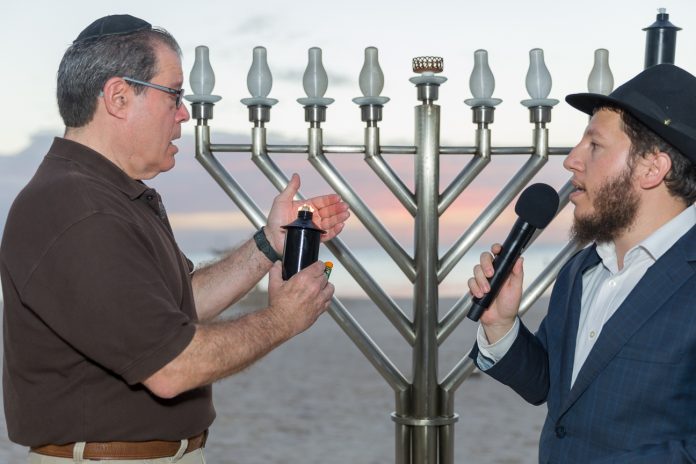 The Jewish eight day holiday of Chanukah begins on Sunday (December 22nd) and Chabad plans to kick off the most celebrated Jewish holiday with a beautiful public Menorah Lighting Ceremony at the Ritz-Carlton Aruba. All are invited to join at the Ritz-Carlton beach-front at 6pm to watch the first candle being lit with the attendance of the honorable Governor Boekhoudt. Delicious latkes and jelly donuts (traditional Chanukah foods) will be served. 
Chanukah, the Festival of Lights, begins this year on the evening of Sunday, December 22nd and concludes the evening of Sunday, December 29th. It's a holiday with a universal message of religious freedom, celebrating the victory of a militarily weak Jewish people who defeated the Syrian Greeks who had overrun ancient Israel and sought to impose restrictions on the Jewish way of life and prohibit religious freedom.
Chabad will be taking the joy of Chanukah all around Aruba this coming week with a full schedule of events for all ages. Each night- the public Menorah will be lit at a different location (see below), culminating with a grand Chanukah Maccabeats Concert on the eighth night. "The message of Chanukah is the message of light," said Rabbi Ahron Blasberg, director of Chabad Aruba. "The nature of light is that it is always victorious over darkness. A small amount of light dispels a lot of darkness. This message is ever relevant especially in these days where there is so much darkness in the world and every day brings news of new hate crimes. Let's light our spiritual torches and share our light. Another act of goodness and kindness, another act of light, can make all the difference."
Night #1: December 22nd at 6pm candle lighting ceremony at the Ritz-Carlton Aruba beach front
Night # 2: December 23rd at 6pm candle lighting ceremony at the Riu Palace (Barry's Bar)
Night # 3: December 24th at 5.30pm candle lighting ceremony at Eagle Beach opposite La Cabana Beach Resort
Night #4: December 25th at 6pm candle lighting ceremony at The Playa Linda Beach Resort Pool Deck
Kids Chanukah activities: December 26th 2-3pm at the Marriott Surf Club Den (sign up required www.jewisharuba.com/chanukahkids)
Night #5: December 26th candle lighting ceremony at 6pm at the Marriott Ocean Club Activities Tent
Night # 6: December 27th Shabbat at Chabad (RSVP www.jewisharuba.com/Shabbat)
Night # 7: December 28th at 8pm Havdalla and candle lighting at the Playa Linda Plaza
Night # 8: December 29th at 7pm ~ Chanukah Live Concert with the Maccabeats~ at the Hyatt Regency Parking Lot (VIP tickets www.jewisharuba.com/chanukahvip)
ALL WELCOME!
For more information, contact Rabbi Ahron Blasberg, at Rabbi@JewishAruba.com or visit www.JewishAruba.com.q