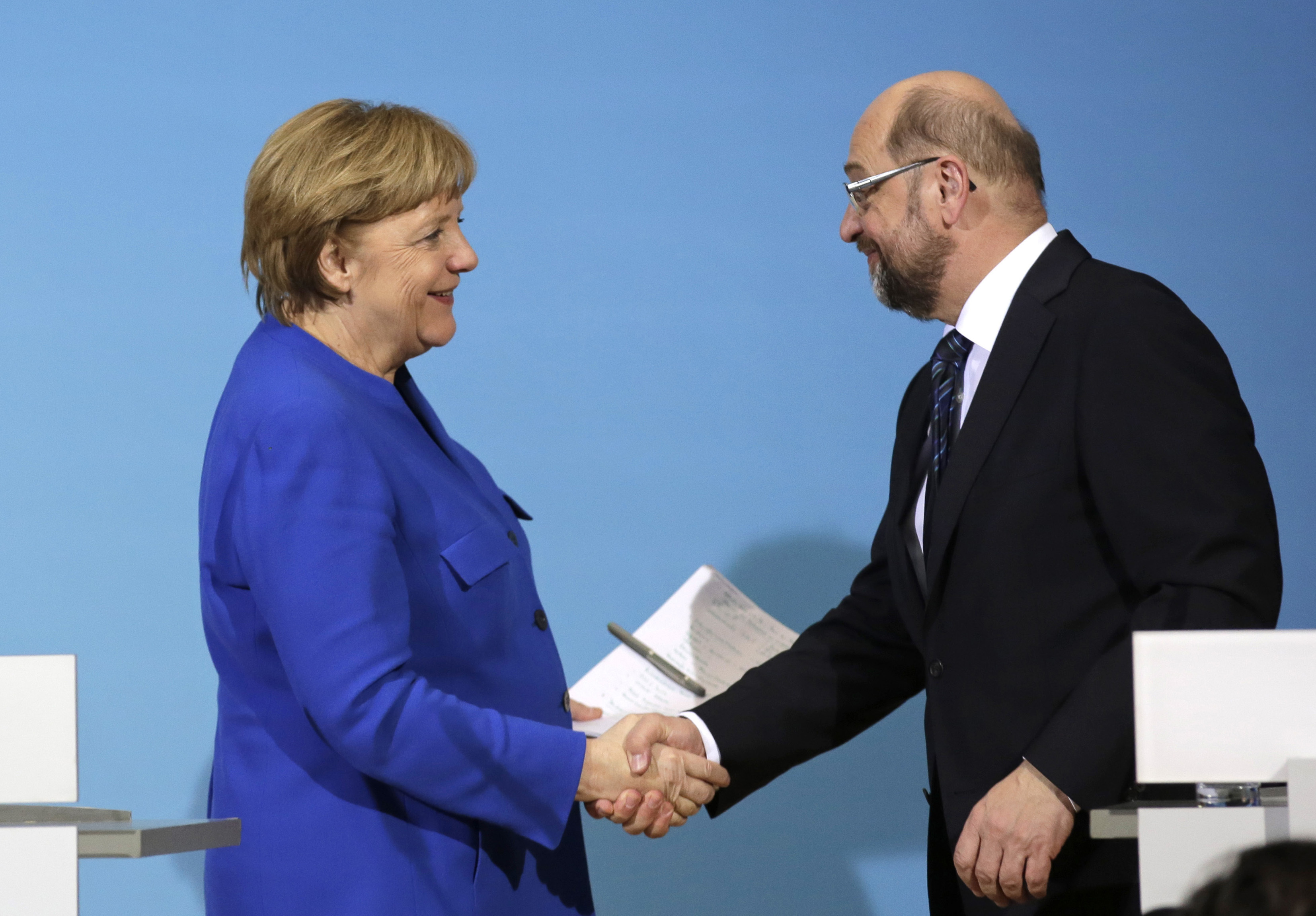 By GEIR MOULSON
Associated Press
BERLIN (AP) — Supporters and opponents of a new alliance with Chancellor Angela Merkel sought Monday to win over members of Germany's main center-left party who will decide this weekend whether to negotiate a new governing coalition.
Merkel's conservative Union bloc and leaders of the center-left Social Democrats last week reached a preliminary deal to open formal coalition negotiations. That needs approval from a party congress Sunday of the Social Democrats, many of whose members are deeply skeptical after a disastrous election result in September.
The two sides have governed Germany together for the past four years, but Social Democrat leader Martin Schulz said until November that his party would go into opposition following the election results. He reversed course reluctantly after Merkel's negotiations with two smaller parties collapsed.
Schulz said Friday his party had achieved "outstanding results" in initial talks with the conservatives. But efforts to persuade members started badly over the weekend, with a small regional party branch coming out against a new coalition and some prominent Social Democrats picking holes in the deal.
A new "grand coalition" of Germany's biggest parties faces vehement opposition from the Social Democrats' youth wing, which argues that serving as Merkel's junior partner again could erode support even further.
"We are convinced that carrying on as usual in a 'grand coalition' would endanger the existence of the Social Democrats, at least as a major party," Kevin Kuehnert, the youth wing's leader, told foreign reporters in Berlin.
Kuehnert complained that "many central aims" were not reflected in last week's agreement, for instance an overhaul of the health-insurance system, while "we had to swallow very bitter pills." He cited a pledge in the agreement to keep a lid on the number of asylum-seekers entering Germany and curb the number of relatives allowed to join migrants already there.
Sunday's congress isn't the final hurdle. If a coalition agreement is reached, it would be put to a ballot of the Social Democrats' full membership for approval.
If the new coalition doesn't come together, the only remaining options would be an unprecedented minority government led by Merkel's conservatives or a new election. Schulz and Andrea Nahles, the party's parliamentary leader, were hitting the road Monday to campaign for coalition talks to proceed.
Nahles highlighted a commitment to guarantee the current level of pensions through 2025, among other things. She told Deutschlandfunk radio she's optimistic about winning over a majority of members.
"Those who are against the 'grand coalition' are willfully talking down the result — I won't accept that," she said. "I will ask whether we are a party that engages in politics for talk shows, or whether we want to implement things."