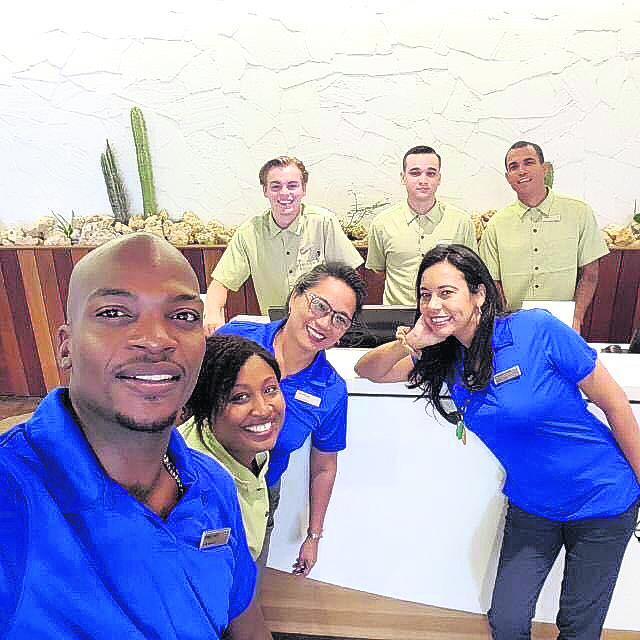 The smile is always there, and also the patience, but for the Front Services Manager of Aruba Hilton Resort, that is not an effort but part of her passion for her job.
Germaine Wever always loved communication and she thought her career would be in journalism. As a young adult, she did interviews for the show InTop in TeleAruba. She particularly interviewed others to show what are the options for young adults to choose a career.
And during one of hr interviews, she visited Aruba Hotel School, back then at the Bushiri Hotel, and her future was determined from that moment. Germaine fell in love with the idea of working in tourism, and chose to start attending AHS. "I started the school of hotel tourism when I was 19, and I never left the hotel world."
Scholarship
The study in Aruba was covered by a scholarship from Sun Development and thanks to Aruba Scholarship Foundation, the young woman finished her advanced studies at Florida International University, ready to conquer Aruba's tourism industry. "I am very thankful to have received the scholarships. My mom was a widow, she wasn't working. My dad passed away and I didn't have any financial support from that side. The family didn't have the means to pay for a study in the U.S. for me."
To support herself and pay the difference that the scholarships didn't cover, Germaine was using all the small scholarships available at the university itself, and put all her efforts towards maintaining high grades in order to remain eligible for financial support.
While she was in the U.S., Germaine worked at two hotels, including a Best Western, but as soon as she got the chance she came back to Aruba, where she worked at Wyndham and then moved to the Radisson.
Meanwhile, Radisson became Hilton, but for Germaine, the change was only in name, because it was her home away from home.
Working with passion
For Germaine, the hotel is part of her life and her colleagues are like a family. Her social media illustrates the joy that Germaine and her colleagues express when they're together – even during difficult times. "I enjoy mi job a lot. It gives a lot of satisfaction." But even Germaine Wever must admit that not always working in tourism is easy, because working with people is not easy. "It's a love-hate relationship", she explains. "It's a passion, like in any relationship, same as a marriage. You have to keep the passion alive because otherwise it becomes a routine."
And working in the sector doesn't become routine if you can find the beautiful aspects of tourism. "It's about dealing with people every day. Not every person is the same; each person you help is different. And if there's no passion, if there's no connection, it doesn't work." And this relationship is not only with the visitor, but also with employees and colleagues. "You have to work with different departments, and sometimes you hate the circumstances, but most of the times you like it."
Special guests
Each guest, each visitor is special. And they all feel special because they paid to come to Aruba, which is not a cheap destination. As the person in charge of front desk, Germaine has experienced many who didn't have a problem expressing their disgust. But Wever doesn't see angry tourists or guests as a problem anymore. It's part of the job and she knows how to handle such a situation. "I think I have so much time on the job, it comes naturally."
Her approach is simple: Just listen to the guest. "It's the most basic that you learn, listening to the tourist sincerely. Show empathy, and always say sorry. Always say sorry but also sincerely, the apology needs to be genuine. You have to put yourself in the other person's shoes, because they will see the difference."
And the reward is more than just a calm guest. Germaine has experienced different tourists that she had to help, who were angry and now are real friends. "A few of them. But the one who stayed with me the most is a British gentleman, who together with his wife travelled around the world and come to Aruba every year (with the exception during the pandemic." The man was very angry with something in his room and went to the Radisson front desk to complain. "I remember that at one point he walked away, but then he came back to apologize for his reaction. And from that day, we are good friends. He even would come eat at home with my family, or we all go out for a meal together."
Those are the beautiful aspects of the job, which give a lot of satisfaction, Wever says.
And even though the criticism of a tourist is hard for the community, in general Germaine hears mostly positive comments. One day a guest told her that Aruba really is 'One Happy Island' and gave as a reason that his wife, who normally wakes up complaining every morning, "today she woke up happy".