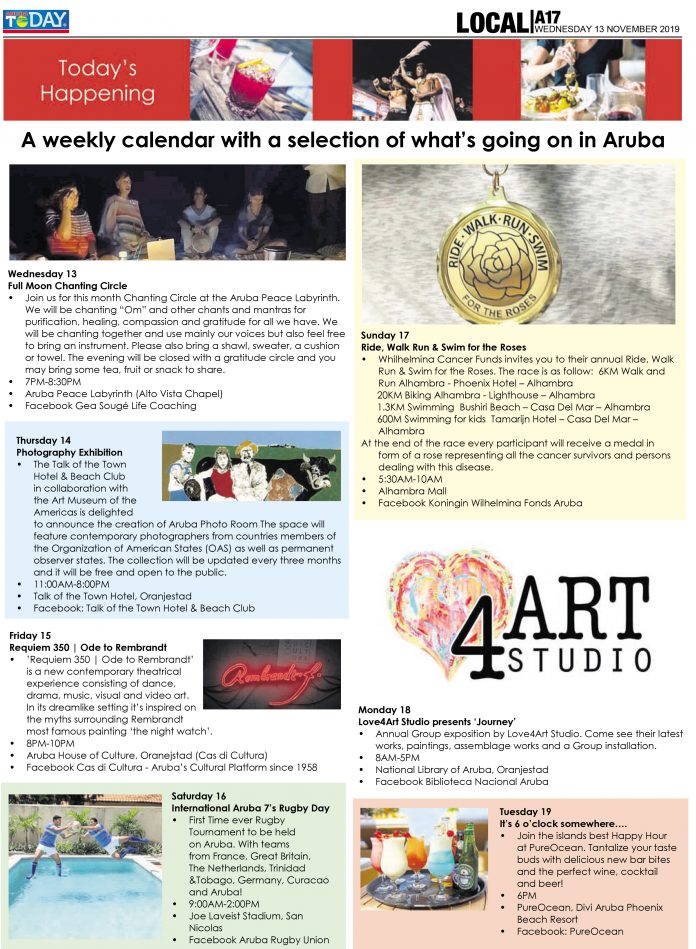 Today's Happening
A weekly calendar with a selection of what's going on in Aruba.
Wednesday 13
Full Moon Chanting Circle
Join us for this month Chanting Circle at the Aruba Peace Labyrinth. We will be chanting "Om" and other chants and mantras for purification, healing, compassion and gratitude for all we have. We will be chanting together and use mainly our voices but also feel free to bring an instrument. Please also bring a shawl, sweater, a cushion or towel. The evening will be closed with a gratitude circle and you may bring some tea, fruit or snack to share.
7PM-8:30PM
Aruba Peace Labyrinth (Alto Vista Chapel)
Facebook Gea Sougé Life Coaching
Thursday 14
Photography Exhibition
The Talk of the Town Hotel & Beach Club in collaboration with the Art Museum of the Americas is delighted to announce the creation of Aruba Photo Room The space will feature contemporary photographers from countries members of the Organization of American States (OAS) as well as permanent observer states. The collection will be updated every three months and it will be free and open to the public.
11:00AM-8:00PM
Talk of the Town Hotel, Oranjestad
Facebook: Talk of the Town Hotel & Beach Club
Friday 15
Requiem 350 | Ode to Rembrandt
'Requiem 350 | Ode to Rembrandt' is a new contemporary theatrical experience consisting of dance, drama, music, visual and video art. In its dreamlike setting it's inspired on the myths surrounding Rembrandt most famous painting 'the night watch'.
8PM-10PM
Aruba House of Culture, Oranejstad (Cas di Cultura)
Facebook Cas di Cultura – Aruba's Cultural Platform since 1958
Saturday 16
International Aruba 7's Rugby Day
First Time ever Rugby Tournament to be held on Aruba. With teams from France, Great Britain, The Netherlands, Trinidad &Tobago, Germany, Curacao and Aruba!
9:00AM-2:00PM
Joe Laveist Stadium, San Nicolas
Facebook Aruba Rugby Union
Sunday 17
Ride, Walk Run & Swim for the Roses
Whilhelmina Cancer Funds invites you to their annual Ride, Walk Run & Swim for the Roses. The race is as follow: 6KM Walk and Run Alhambra – Phoenix Hotel – Alhambra
20KM Biking Alhambra – Lighthouse – Alhambra
1.3KM Swimming Bushiri Beach – Casa Del Mar – Alhambra
600M Swimming for kids Tamarijn Hotel – Casa Del Mar – Alhambra
At the end of the race every participant will receive a medal in form of a rose representing all the cancer survivors and persons dealing with this disease.
5:30AM-10AM
Alhambra Mall
Facebook Koningin Wilhelmina Fonds Aruba
Monday 18
Love4Art Studio presents 'Journey'
Annual Group exposition by Love4Art Studio. Come see their latest works, paintings, assemblage works and a Group installation.
8AM-5PM
National Library of Aruba, Oranjestad
Facebook Biblioteca Nacional Aruba
Tuesday 19
It's 6 o'clock somewhere….
Join the islands best Happy Hour at PureOcean. Tantalize your taste buds with delicious new bar bites and the perfect wine, cocktail and beer!
6PM
PureOcean, Divi Aruba Phoenix Beach Resort
Facebook: PureOcean