MFA buildings are some of the busiest offices for the general public of Aruba.  That is why it is important to follow the protocols of social distancing and wearing of masks along with the added protection of sanitization with D7, the most effective virus killing agent there is.
The Freewinds Volunteer Ministers sanitized all four MFA premises.  Due to the number of workers and the high amount of people moving through the buildings during the day the sanitation was done after hours.  This was not a problem considering the importance of the work that needed to be done. By using D7, the most effective virus and bacterial killing agent there is, people can be confident that they are getting the best in protection against the possible spread of Covid-19.  This is especially important as the number of active cases continue to decrease.  Prevention of the spread of the virus is the best means to keep everyone safe.  It can be said that an ounce of prevention is worth a ton of cure.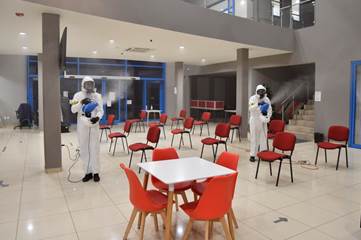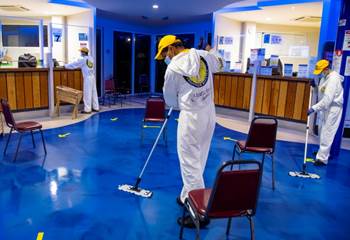 Mr. Jean Paul Gibbs, the facility manager for the MFA buildings, was very pleased with the efforts of the Volunteer Ministers saying, "What you have done is extremely nice, very positive.  You are really helping the community."
A staff member at one of the offices commented, "This is a very positive move.  The people feel happy.  It is a great feeling to know that if something dangerous is running around it is being killed before it harms people."
In recognition for the work that was done, the Freewinds Volunteer Ministers were presented a letter of thanks from the Head of MFA, Ms. Arleen Oduber, with these words to the In Charge of the Freewinds Volunteer Ministers, Ms. Susan Lora.
"On behalf of Bureau Multifunctionele Accommodatie, I would like to express my gratitude for the Freewinds team.
"My thanks and appreciation goes to you and your team for your extraordinary effort, time and input, especially during this difficult period of Covid-19.
"I am aware that it's a heavy task, but the Freewinds team has done a great job and was even willing to do this during the late hours of the night.
"I greatly appreciate the assistance you have provided us.  Sincerely, Arleen Oduber."
MFA Facilities Manager Mr. Jean Paul Gibbs presents the letter of appreciation from the Head of the MFA to the Freewinds Volunteer Ministers in recognition of their efforts in sanitizing the MFA buildings.